on
October 7, 2013
at
12:00 am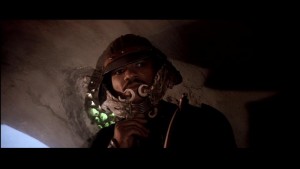 Disguise is not everyone's forte. But hey, you can't fault Lando for trying! This screen grab on the right comes a little later in the movie, but I couldn't resist introducing Lando earlier in BMS. After all, he's been at the palace for a while, it seems. So it might be interesting to find out a little more about Lando's time there. Expect to see more of Lando in the coming weeks. But expect to see Jabba more immediately.
Do you read Blue Milk Special on a mobile device?
If you like using your smart phone, or tablet to kill time, then you might like to try the FREE app Carbon Webcomic Reader. It's the smoothest of the bunch, and unlike Comic Rocket, it only downloads each strip. That means you can scroll through the strips quickly with a slide of your finger, rather than the added load time of every webpage. Of course you can read the blogs easily enough with the web browser on your mobile device, but with the Carbon app you don't have to worry about losing your place. It saves the strip that you're up to and helps you keep track of other webcomics just like Comic Rocket, only quicker. Blue Milk Special is listed on Carbon Webcomic Reader, so take a look and experience the fun all over again.