on
December 19, 2013
at
9:45 pm
After some unexpected Oola drama last week and some astronomical web stats for this site, we're back. For anyone that cares, Jabba is responsible for the Miley dance request. Or maybe Oola had been drinking and just doesn't want to admit she enjoyed herself? I leave it to you to decide!
We have a Christmas strip planned for next week, but for now Lando has to stop getting himself into trouble with his self proclaimed smoothness. Love comes in all shapes and forms.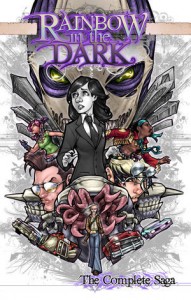 Rainbow in the Dark: The Complete Saga
Husband and wife team, Adam Withers and Comfort Love, have collected their nine issue series, Rainbow in the Dark, into a trade paperback which would make a great addition to your book shelf right in time for Christmas. What's it about? A world of black & white into which comes a little color and chaos. It stars Donna White, a girl in a literally colorless world whose life changes when she meets rebels from a colorful free world locked in a secret battle with her own.
The story is built around the complexities of the characters and beautifully illustrated by both Adam and Comfort. A project they have worked on for the last couple of years. They are everything Leanne and I aspire to be someday, so I can't say enough about how great Rainbow in the Dark is and how wonderful their imaginations are!
A great gift for yourself, or a friend. Check it out!