Altering the deal
on
November 12, 2012
at
12:00 am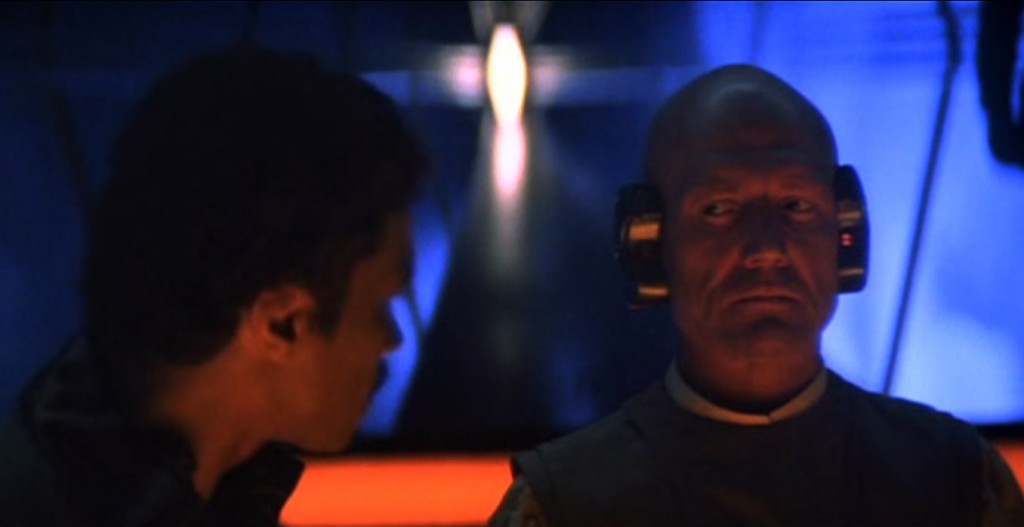 Lobot gives Lando that look right after Vader threaten his boss. I'm sure Lobot was privately enjoying Lando's emasculation.
Speaking of looks, the poll for the Best Princess Leia look is now closed. That the metal bikini would win was never in any doubt, but the contest for 2nd place was where the real battle took place! A whopping 1,341 votes were made over the last month and a bit. Here are the final results: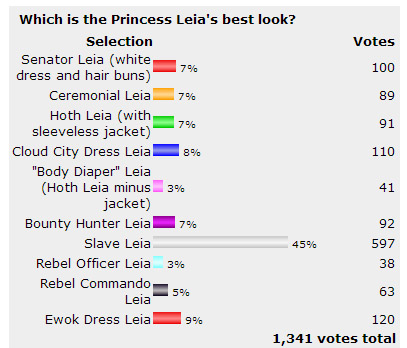 I think it's interesting that the most popular character, that people had requested Leanne to illustrate on a sketchcard, was our BMS Leia. There have been NINE requests for Leia so far, giving her a clear lead over all others. To give you an idea of BMS Leia's astonishing popularity, the only other character to get more than one request so far is Biggs, with two. The nine Leia sketchcards include 3x Slave Leia, 3x Senator Leia, and 1 each of Ceremonial Leia, Hoth Leia and Diaper Leia. The final sketchcard was a romantic interlude between Han and Leia, but it doesn't count as an indicator of costume popularity as, in this particular card, she was not wearing anything at all!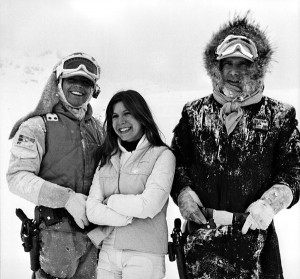 Sketchards aside, the BMS poll did have some interesting results that I could not have predicted. Leia's most popular outfits were the Ewok Dress, followed closely by the Cloud City dress. Return of the Jedi takes the cake for being Leia's most flattering movie, not only with the slave outfit, but the Bounty Hunter Leia placing 5th. Personally, I like Leia's brief appearance in the ROTJ Rebel uniform… however, only 5% of you thought it worthy of your vote.
Somewhat surprisingly, classic Senator Leia ranked 4th. I expected her iconic look and hairstyle to place higher. Ceremonial Leia's look appears relatively popular, but it seems fans prefer Leia's hair down, rather than up. As for Leia's Hoth diaper suit… I don't want to be mean to the costume designer, but it was one of the least flattering things she could have been stuck in for such a huge portion of the film. I think it would have been much better had she just finished taking a shower at the time the Imperial attack begun. She could have spent the rest of the movie stuck wearing a bathrobe with her hair down. I'm just saying…
The new poll asks how you feel about the Disney purchase of LucasFilm.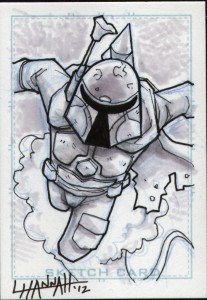 As for those sketchcards that Leanne has been drawing for everyone, she will FINALLY begin posting them via Twitter (one per day). Our Blue Milk Special Facebook page will post each the following day. Eventually, I will post a complete batch (low resolution) here in one of the blog updates, probably in December. So, if you don't want to wait that long to see what other fans got, then follow @stratosmacca on on Twitter, or LIKE Blue Milk Special on Facebook.
You may need to click on settings (the gear icon on our Facebook page) and choose to subscribe to our updates. Facebook has made changes so that now you only see posts in your Newsfeed from people you interact with. That means many of the fan pages you may have liked in the past will not show up unless you specifically subscribe to their updates. It's something else I hate about that particular social media site.
If you vote for us each day at TopWebComics.com then you are a diehard BMSer. Click the link below, or the thumbnail preview at the top of the left sidebar. Thanks!

Facebook now requires page admins to pay to promote their updates if we want our content to be seen by our subscribers who have already liked our page. If we do not pay to promote our posts, only about 10% of the fans receive the updates on the Facebook home page feed.

To keep RECEIVING ALL POSTS FROM BLUE MILK SPECIAL you have to hover the mouse on the "Like" button near our name. In the drop-down menu select "ADD TO INTEREST LISTS". Then create an interest list (and make a name for your favorite sites). When you select that interest list you will again get all of our posts and not 10% of them.

We recommend that you follow the above instructions for ANY Facebook page you care about, so you can continue seeing all the posts from the pages you already like.