As You Wish
on
September 17, 2012
at
12:00 am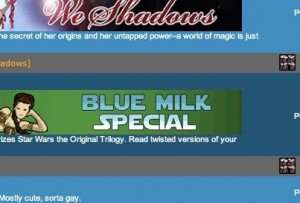 Big news! We broke the Top 10 of TopWebComics.com, the well known webcomic listings where rank is determined by number of votes from readers. We have been listed with TopWebComics since 2009, and I still remember when reaching #28 seemed amazing! Only the top 10 receive the bonus of their banner appearing beside their listing, an additional draw to new readers and promotion we don't have to pay for. So thank you to everyone who has really gotten into the rhythm of voting for us daily and propelling us into increasing visibility each month. There is only one milestone left to achieve…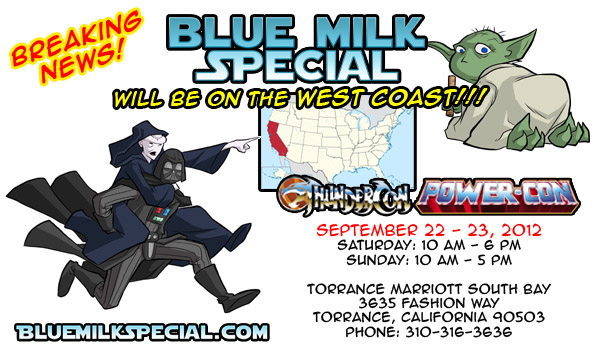 Leanne and I will be at Power-Con in Los Angeles this weekend! This will be the first chance for many Blue Milk Special readers who live on the West Coast to meet us! It will also be our last public appearance of the year.
Why Power-Con? Leanne was the editor for the studio MVCreations, publishers of the Masters of the Universe 2002 reboot comic. The first issue was the bestselling comic of the month and coincided with the animated series reboot from Mike Young Productions. She also worked with music artist Rob Zombie on his comic anthology, Spookshow. Leanne will be part of the MVCreations panel and will have a table at the show where both she and I will be doing the sketch thing and pimping Blue Milk Special.
If you haven't been able to meet us at one of our East Coast appearances, then this could be the opportunity you have been waiting for. You can meet the Blue Milk Special team, pick up the exclusive FREE promo cards, and request your very own sketch! You can find full details about the show at the official Power-Con website. Please share with your friends and help make the second annual Power-Con a success! Also check out Leanne's blog update over on her professional site.
MORE NEWS!!!!

Leanne Hannah (Blue Milk Special artist-in-chief) has joined the crew of Masters Cast, the long running Masters of the Universe podcast. Her first regular appearance is the Episode 48 which debuted September 16th. This year DC Comics has brought back Masters of the Universe in another reboot and Leanne and the crew of Masters Cast discuss the latest issues with a mix of expertise and fan analysis. Something to listen to, but now with the benefit of Leanne's silky voice!
Bored with BMS? Read the Living Room Wars! webcomic!
Will our heroes make it out of a burning Millennium Falcon before they melt? Find out in
Part 93
. Yes! 93 chapters!
Living Room Wars is the mad cap webcomic of Phil Custodio, starring his pet cats, the Star Wars & Star Trek cast, and practically any other action figure he can get his hands on. Phil has just added a new chapter as well as a new Table of Contents which helps serve as a guide, especially if you have catching up to do, like I did!