Boba, bounty hunting genius…
on
May 7, 2012
at
12:00 am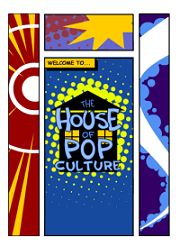 We spent Free Comic Book Day as guests at The House of Pop Culture, our local comic shop in Waldorf, Maryland. Leanne churned out 20 or more sketches, including inked commissions. She will no doubt be posting photos of some of these over on her Twitter page. We gave a brief interview for the new House of Pop Culture Podcast. We will let you know when that episode goes live. There may also be some photos to share. Store owner, Brett reports his best day of sales ever! We hope the added Forciness was a factor. 😉 We had a great time and hope to have earned some new readers. A special thank you to Eric (Rebel Legion / 501st member) for stopping by in the afternoon to say hi and get a cool GI Joe commission from Leanne.
Almost forgot! Thanks for the mention on Distracted By Star Wars. It's a great Tumblr site full of great Star Wars humor and images. We welcome reviews from anyone with a website and will gladly link back to you. So, let us know if you have a review of Blue Milk Special, or a mention, that you have posted somewhere. Thanks!
I have closed the "Did Luke wash while on Dagaboh?" poll. The results are decidedly in favor of a dirty Luke visiting Bespin. We shall keep this in mind. 😉 The new poll is one for all of our readers. How often do you visit Blue Milk Special?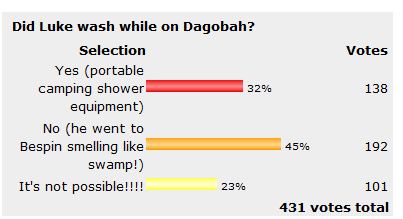 Want to see an exclusive Vader & IG-88 Blue Milk Special strip? That's right, starring IG-88, the droid who looks like his head was stolen from behind the bar of Mos Eisely Cantina… Read on…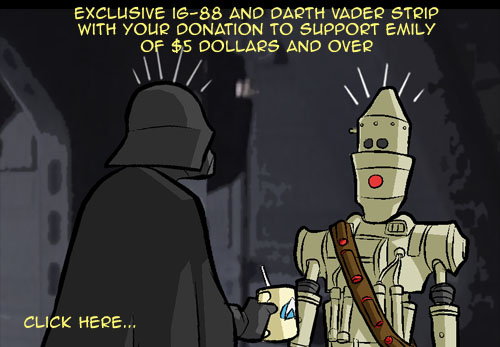 Well, here's your chance to see a strip that is exclusively for a noble cause: raising money towards the family fund for Emily's Brain Surgery in Boston. If you donate $5 dollars or more to help this ten year old girl with debilitating Moyamoya disease, and you include the words "Blue Milk Special" as a comment with the donation, her mother, Carey will email you a thank you including this exclusive IG-88 Blue Milk Special strip. Your money helps a child and gets you an exclusive BMS strip. How about that?
Even if you can't afford to make a small donation please share this appeal with friends to help spread the word so we can make a difference.