Boba Fett vs GPS
on
May 28, 2012
at
12:00 am
There is a new character about to make his debut in next week's voting incentive. Obviously by saying "he" the gender of the character is male. He might also have a cape and a mustache, but he can't be Biggs. Can you guess who? Hmmm…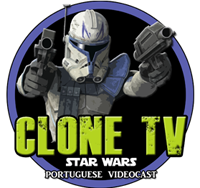 A big "thank you" to Clone TV Star Wars Portuguese VideoCast for mentioning us on their site. Check them out for assorted Star Wars goodness!
A new poll has been put up and the old poll has been closed. The new poll is a simple question: "What is your favorite color lightsaber?" I'm not talking about the design, I'm just talking about the color. Growing up with the OT, as far as I was concerned, there were only ever three. Nowadays there is every conceivable color lightsaber, including pink… probably. However, being old school, I am only listing the OT colors and giving a fourth option as "other".
You can leave a comment on the poll or here in the blog to elaborate on your choice. Does anyone know what color Leia's lightsaber is? I have to admit, I don't keep up with the multitude of expanded universe material. If I did, I'm sure I wouldn't have the time to work on these strips!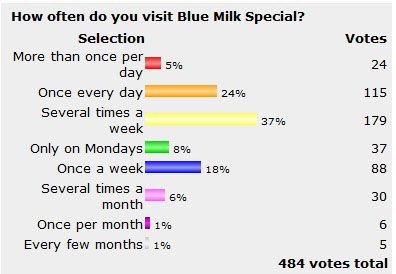 Thank you to everyone who responded to the last poll. It is interesting to see how often you guys frequent the site. Wish we could manage a Monday and Friday update schedule like the old days, then those repeat visits would be more rewarding. For everyone who visits the site more than once a day… you guys are our core! I know we don't always hit the mark with our gags, but for a small group we seem to be an important part of the daily net surfing.
Don't forget, if you donate and leave the message "Blue Milk Special" you will get an exclusive BMS strip featuring Darth Vader and IG-88!