Bespin Steak
on
August 27, 2012
at
12:00 am
Did you go to Star Wars Celebration VI over the weekend? You can let us know how it went via our comments section or discuss and share your photos in our BMS Forum.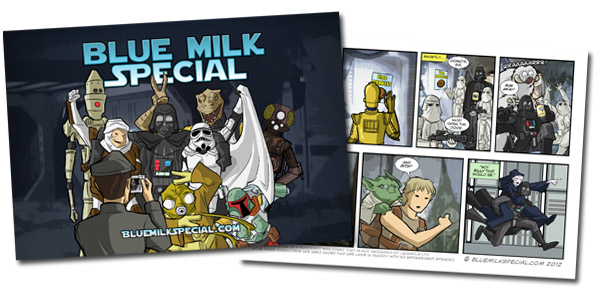 New glossy double-sided Blue Milk Special promo cards will be available at Baltimore Comic Con on September 8-9. You will be able to pick one up at our table in Artist Alley (table A96, see below). For people who can not make it to the show, we will throw in one of these free promo cards with each purchase of Leanne's new 2012 sketchbook as a bonus and a thank you. Leanne's sketchbook has 32 interior pages of art and is nice way to support Blue Milk Special. 🙂

On Saturday and Sunday, September 8-9, 2012 Blue Milk Special's creators (that's Rod and Leanne Hannah) will be at Baltimore Comic Con. If you can make it to the show, you will find us in Artist Alley at table A96. Hunting around for us will be a lot easier with the map below to help guide you, and it will be worth your time as we will have brand new Empire Strikes Back-themed glossy Promo Cards which will be free! You can support us by purchasing Leanne's new 2012 Sketchbook, getting a commission of any character you like, buying prints, saying nice things, etc. 🙂
The Art of Leanne Hannah 2012 Sketchbook will also be available to purchase online after the show, however this is a rare opportunity to meet us and pick up goodies and sketches. So, if you can make it to the show, please look for us and give us a few minutes of your company, show off your gear and chat about Blue Milk Special!