Dramatic Hesitation
on
February 4, 2019
at
4:27 am
The reason for the delay has been the sudden passing of one of Blue Milk Special's biggest supporters.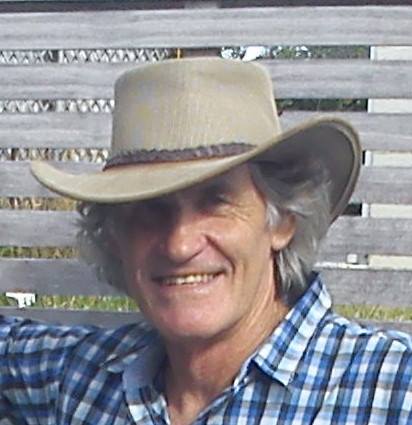 On January 23rd, 2019, my dad passed away in North Shore Hospital, Auckland, New Zealand. I had rushed out to be with him two days earlier, arriving from the east coast United States the morning before he passed. He suffered for decades with Primary Schlerosing Cholangitis. It is a horrible disease that can eventually destroy your body from the inside out, which was the case with my father.
Fortunately, I was able to spend 13 hours with him on Wednesday and although he could no longer communicate, I believe he was able to understand much of what I had to share with him.
The following Tuesday he was cremated and a memorial service was held at the Milford Cruising Club in respect to my dad's love for the sea and boats.
I am still in New Zealand at the time of typing this. With my younger brother's help, I am doing my best to organize my father's mass of ham radio and carpentry / building tools for inventory and valuing, as well as contacting estranged family members and friends.
His passing was not a shock, as his deterioration had become very steep in the last two years and his health remained too poor for him to survive a liver transplant. By the time I arrived he had been in constant pain and was suffering from brain damage due to kidney damage during an otherwise routine ECRP procedure. During the procedure an infection entered his blood stream and his fragile body was unable to recover. The following days were painful and harrowing for us all.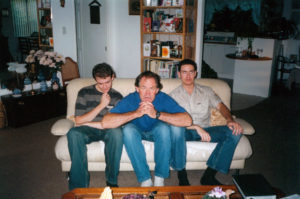 Seeing anyone suffering to the point of being rendered into such a state would be heart breaking enough. Seeing my father unable to function or articulate beyond painful groans and restless confusion, little more than skin and bone and afflicted with jaundice, hanging on and fighting with every breath… it has been a life changing experience for me. Although he ultimately slipped into a coma in the last hours of the evening and went peacefully, the suffering he has endured for so many years, especially in the past five has been unbearable. Despite this, he not only supported my work financially, but continued to pursue his myriad of hobbies to a reduced extent. He lived his life and was a true adventurer. He died young at 67.
Things have been very challenging. Leanne and I are on the very cusp of our debut of an entirely original flagship title with Webtoons called Heart-Wired. Leanne remained in the USA and continues to work on Heart-Wired and I do my best to keep BMS going, but I have not had much chance in the past week and a half.
By this coming Friday I should have a better idea of the amount of work to do regarding settling my dad's affairs and estate, and when I can plan to fly back home and reunite with Leanne. It is already the longest stretch of time we have had apart from one another since we married in 2004.
I will be updating with another BMS strip this Friday as we have some momentum to rebuild and a brand new webcomic on the way as well. So please check back and spread the word. The success of our creative projects lies as much in your hands as in our own.
Supporting us through Patreon is simple, and you have complete control over your subscription. You can give us as much as you like, even $1 dollar helps, and you can cancel your subscription any time. If you need to take a month off, you can simply cancel and re-subscribe when you're ready. There are no strings attached. Patreon allows readers like yourself to support artists who are doing their part to share a laugh or two with the world, through comedy and art.
We are now hosted on WebToons (a free webcomic community) and building a new home for our community of readers. We'd love to see you over there. So drop by and experience BMS anew!

You get to experience Blue Milk Special all over again in a new vertical format that looks great on your phone, and computer. The punchline panels work so much better, and you get to see larger panels! There are even some new strips, and better chronological ordering!
There are hundreds of other classy and hilarious webcomics you can discover at WebToons, along with a vibrant community of readers to interact with. Also, by subscribing to us, and the page views, we get a small amount of financial support from WebToons that helps us when we desperately need it.

Would you like to join the BMS webcomic reader community? Well, WebToons is a fun new way of doing that. And you can join the hundreds of comments on each strip. Yep, comments are open at WebToons.
WebToons works on your web browser or your smart phone App and allows you to read a wide range of webcomics by both amateur and professional creators alike. It also has a unique formatting rule where all webcomics have to scroll vertically, rather than left to right. It makes for a brand new Blue Milk Special reading experience!
Here's an example of our reformatted look over on the left. To read it full size, click the link to go straight to Webtoons. While you're there, we hope you will consider making an account, checking out the many webcomics on offer, as well as becoming a subscriber to Blue Milk Special. It's FREE!
Obviously, supporting us on Webtoons is totally free and only requires a minute of your time each day. There are many great webcomics there to discover by artists more talented than us, so dive in and escape the drudgery of daily life for a while! 🙂
On a separate note, please consider supporting BMS, whether it's through buying one of these auctions, or donating via Patreon or GoFundMe. If you want to donate to us directly through Paypal, then here is the link.
If you subscribe to us through Patreon, you get to see the next set of strips early and get exclusive content. All money helps keep BMS going from the cost of the website to helping with my expensive monthly medical bills and health insurance. We can not publish BMS for sale as it is only a fan project, so we rely on fan support for the project's continuation.