Empire End Scene
on
March 1, 2013
at
10:21 am
I remember the first computer we ever had in the family was my Dad's 286. One the desktop wallpapers or screensaver (I can't remember) was the classic shot of Luke and Leia's back, with Threepio and Artoo as they all stared out the Medical Frigate's window. It was such a fantastic shot and remains convincing to this day, even now that we are used to all that can be achieved (convincingly or not) with CGI in movies. It was such a great shot to end on and the anticipation of what would come next must have been incredible. At the time, I never imagined Luke touching Leia's ass, but well… it's technically not his hand, is it? So is he really touching her? 😉
Just typical of me to ruin this scene! A big thank you to Leanne for making the last few strips happen while I've been dealing with my health. And don't worry, Luke will be keeping his chainsaw hand as an option for future strips.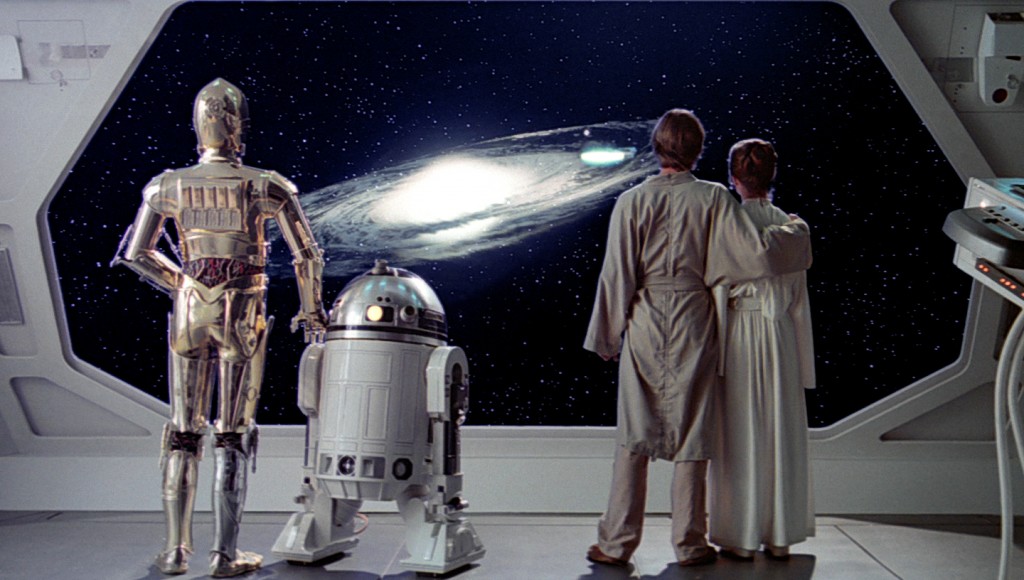 And so, we come to the end of The Empire Strikes Back at long last. We had a slow period during the Hoth and Asteroid sequence where we only updated once per week and that really stretched out the duration of the parody. That is regrettable, but it was one of those things that had to happen. At the time we had some major things going on in our lives that needed attention and Blue Milk Special nearly came to an end. But thanks to reader support, we were encouraged to keep going, even if it was only once per week, rather than stop entirely.
Now that we've reached the end of Empire and have an excursion into Shadows of the Empire planned, we will need to take a 1 week break. So this strip will be up all next week. We will endeavor to be back on Monday, March 11th with a teaser poster of Shadows of the Empire. And then get into full swing either Friday 15th or Monday 18th with the actual parody. I will be inserting a couple of strips featuring Lando and Chewie on their initial trip together in the Falcon, something the Shadows of the Empire books/games/comics sadly overlook.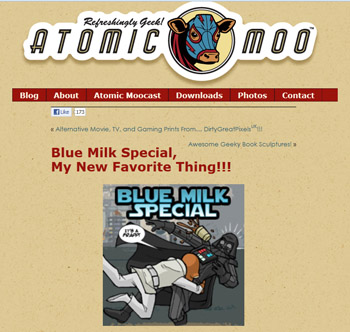 Our Shadows coverage should not last much longer than two to three months max (I'm shooting for just under 20 strips total) and I'm personally much more excited about Return of the Jedi. Whether you love that movie or not, it is rich with crazy characters and major sequences that I'm dying to play with. I can at last play with Jabba, Ackbar and the Emperor again, and develop them with more depth. It's going to be so much fun!
I want to give a huge shout out to Sean, from the Atomic Moo blog for his review of Blue Milk Special. It's a very positive write up and our second in the space of a week. Thanks for choosing us as your "new favorite thing", Sean. We hope Atomic Moo readers will stick around and rejoin us after our short break. To all our BMS readers, make sure you take a look at Atomic Moo and check out other great comics that Sean recommends!

Since we've just completed Empire, you guys might like to check out the following YouTube video. This was French documentary maker, Michel Parbot's lost documentary made during the production of Empire Strikes Back. It is AWESOME.