Grace and majesty
on
August 12, 2014
at
12:00 am
Enter the Imperial Guards… and what an entrance! We'll be touching upon the silliness of the Imperial Guards over the next few months. I have to say, as far as giving us parody material goes, I love these guys! I think they're adorable. In fact, that last panel is the supersized high-res version that our Patreon subscribers will be receiving this week. I also had fun coloring them and figuring out their shiny helmets. Leanne did a great job on these unfortunate elite.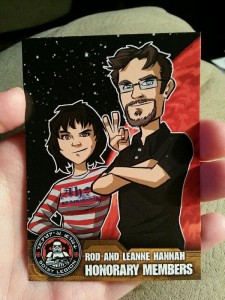 I'd like to thank Tray Nichols and the 501st Legion for the latest set of trading cards which includes Blue Milk Special's creators Leanne Hannah and yours truly. These shiny pieces of art will be in the hands of most 501st Legion members already, but we have a supply of them to share with fans at events, as well as those that support us via the store.
If you would like a sketch card commission from Leanne, you can get one by choosing to subscribe to $20 or above. You can always cancel your subscription after the first month, however if you continue to subscribe that's one sketch card of a character of your choice EVERY MONTH! That's pretty cool. Subscription levels start at $1 dollar per month so please take a look at what we offer BMS subscribers. You get hi-res art from panels of the strip, the next strip a day before publication on this site, a random chance at a free pinup mailed to you, and sketch cards! By supporting BMS through Patreon you are supporting us. And if we hit $250 then we will be bringing Boba Fett back from the grave!