Greedo's Cousins
on
August 13, 2010
at
12:00 am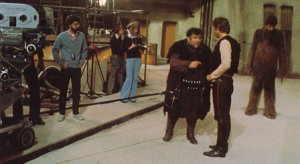 If you've been reading the strip then you'll be familiar with our version of Jabba the Hutt… or Jabba Declan as we call him. Just to recap: George Lucas originally filmed a scene with Han Solo and Jabba the Hutt for Star Wars in 1976. He had planned to use special effects to replace the stand in (played by Declan Mulholland) with a more monstrous appearance, however the money and the effects just didn't happen and so the scene was omitted from the final cut. I always felt this original scene worked better than the later CGI re-insertion for the Special Edition. I like to imagine Declan as simply one of Jabba's top cronies, despite the fact Han addresses him as Jabba. In any case, for BMS we tried something of a "what if" when we did our Docking Bay 94 Jabba scenes using the Declan version and passing him off as the REAL Jabba. Long story short, we liked something about this take on Jabba who was uniquely our own, much like our Biggs is unique to BMS. This version will be sticking around for a while.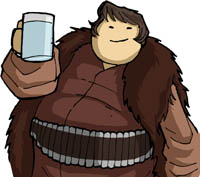 Greedo's cousins were a lot of fun to write. I came up with this next series of strips early this year and they would have concluded our Interquel material between Star Wars and the Holiday Special. We sat on these strips for a while but finally they're making their debut. Without them there would simply be no new strips for the rest of this month. Life has caught up to us again and that means putting together the necessary strips for Splinter of the Mind's Eye and, inevitably, The Empire Strikes Back is going to take significant time to prepare. Thus, "Greedo's Cousins" is a story arc that we hope will keep our most devoted readers happy for the meantime.
This new story arc and its direction will become clearer next week when the other key players are introduced to the story: Boba Fett, Han and Chewie.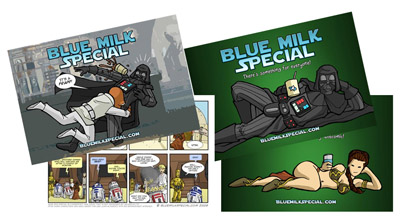 Star Wars: Celebration V has begun. Although we couldn't make the show, both Joshua (Shadow Stormtrooper) and Paul (Smoking Jawa) are there with the Rebel Legion and the 501st Legion doing their part to hand out our exclusive FREE promo cards. If you are attending the show PLEASE look for them and say hi. It's not easy wandering around in a costume and a mask for long periods at a time and being stopped for photographs every few feet. Let them know you're a BMS reader and pick up a free promo card.
Paul: I'll be at the Rebel Legion booth twice each day (thurs and fri). The "Smoking Jawa" will be the 5:30-7 pm appearances. Will have both on me as far as Postcards/Flyers….Bring family and friends and get some. Cameras if you have them. I'm also gonna be all over (LFL family room, RL/501 pool party,RL photo shoot, The wretched Hive Photo shoot, R2 builders room throughout CV I'm sure, etc.)
If you will be attending Celebration V please don't forget to share your photos with our Facebook fan page.
Still want to get your hands on a promo BMS card? A second batch of will be on hand at Baltimore Comic Con on Sat-Sun August 28-29 and New York Comic Con on Fri-Sun October 8-10. We will be at both shows and may have a few other Blue Milk Special goodies for those who don't want us to feel lonely and dejected. 😉