Thought Balloons
on
November 9, 2012
at
12:00 am
Okay… interesting story… sort of. You may need to refresh / reload this page in your browser as the strip has changed THREE times this morning. What happened? The original strip's gag was invalidated by my own goof when I was correctly shown how Han was freed of his Han-cuffs. So, my knee jerk reaction was to move Monday's strip forward and replace the Han-cuff strip. Then, I realized I was throwing away a lot of work and that my eventual plan to give Han's carbonite form a voice / thought balloons would fit really well with the original strip's layout. So, I pushed Monday's strip back to Monday (meaning some of you have had a sneak peak of NEXT Friday's strip!) and revised today's original strip. What a lot of work! But I brought it on myself!
Some readers had left comments about Han's suddenly absent manacles in the film, and for their benefit here's what another reader, Michael had to say. "You can see Han's naked wrists after the Ugnaughts leave, no hand cuffs. You can also see that he starts to lower his hands before the scene shifts. It's the thing behind Han's back that might be a continuity issue, but it does not prevent Han from holding up his hands." See a video here.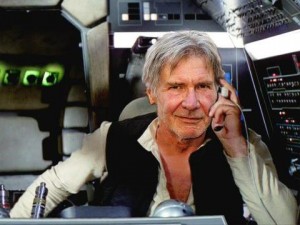 Harrison Ford is interested in stepping back into the role of Han Solo again… a role he is on record as never having liked. It seems the wave of excitement about a new Star Wars film, a sequel to the originals, has got the better of him at last.
There is also a strong rumor about the possible writer. Oscar winning screenwriter Michael Arndt is said to have written a 40-50 page treatment of the new trilogy. Arndt wrote Toy Story 3, Little Miss Sunshine, and Hunger Games: Catching Fire, is the writer of Pixar's next upcoming movie and a "Star Wars expert". Arndt began work on the treatment well before the LucasFilm / Disney deal was announced and it sounds like he is a real candidate. That doesn't mean Arndt has the job, and even if he gets it, several writers may end up being involved in the final version.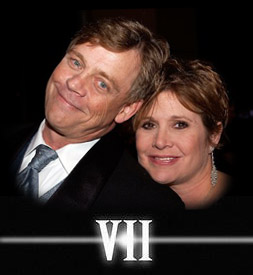 Matthew Vaughn, director of X-Men: First Class and Kick Ass has been rumored by DenOfGeek.com, though Vulture.com says Disney intend to try the big name directors first, including Steven Spielberg, Brad Bird (The Iron Giant, Pixar's The Incredibles, Ratatouille, Mission Impossible: Ghost Protocol) and J.J. Abrams (Mission Impossible III, Star Trek 9, Super 8).
What do I make of all this? I have mixed feelings. Vulture.com reports that Disney / LucasFilm WANT the big three back: Mark Hamill, Harrison Ford, and Carrie Fisher. I enjoyed elements of Indiana Jones and the Kingdom of the Crystal Skull, but is that the sort of hit and miss I'd be content with for Star Wars VII simply to see the originals back in character? Regardless of their age, as a fan I can't turn that down. Even the Holiday Special has an annoying glimmer of appeal due to the involvement of the Star Wars main cast, and I'm willing to bet whatever LucasFilm / Disney make, it will be better than watching a Wookiee child running around his home growling for 5 straight minutes, or a geriatric Wookiee watching porn.
I'm pleased to announce that all US orders of Leanne's Artbook, Sketchbook and sketchcards have been delivered successfully. We can't confirm our international orders have found their targets, but we hope that the packages will arrive soon. If you are concerned and you are one of our international supporters who placed an order, let us know if your package has not been delivered by early next week. Thank you to everyone who has made an investment in Leanne's work and given us a boost! We continue to offer Artbooks, Sketchbooks, and Leanne's special one time deal to fans for a commissioned sketchcard.
Click here, if you are interested in seeing what is in these books, as well as examples of sketchcard art that Leanne can illustrate for you personally!