Welcome back to the Falcon
on
February 25, 2013
at
12:00 am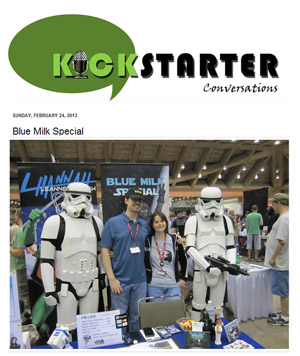 Leanne and I were interviewed by James Yee of Kickstarter Conversations and you can read it up on the latest blog. There are a lots of insightful questions (and hopefully answers) about Blue Milk Special. So any readers who consider themselves BMS fans might like to check it out and find out what we have planned!
A while back we mentioned in our podcast that fans were working on a full scale Millennium Falcon thanks to donations of money and time. Wondered how that project was coming along? Well, I'd say pretty well! Pictures have just been posted that show the frame work of the cockpit along with finished interior paneling. Check out the site and through your money at them. Everyone will be able to visit the finished product eventually.
Looks like Lando is going to have a little trouble fitting in as Chewie's accessory and co-pilot. Speaking of knowing Lando would be trouble, here's the Goat version of the Taylor Swift song. Yep, the goat screams like a human that's just seen a ghost (or me listening to a Taylor Swift song).