Keep the Forciness Flowing
on
June 2, 2014
at
7:50 pm
Today we meet Kithaba and Weequay, two of Jabba's skiff guards charged with escorting the executees to their doom. I wanted to remind readers that these guys aren't just thugs. They each have distinct looks and lives of their own. Personal drama? You bet. Social awkwardness? Sure. Fertility issues? Perhaps! However, we would never have reached this strip if it wasn't for you guys… the readers!
The SAVE BLUE MILK SPECIAL campaign is STILL GOING! If you want to see Smokin' Leia, Biggs and TK8008 really take on a life of their own, then now is the time to make your feelings known. How much does the webcomic mean to you? Let us know.
Let's keep the FORCINESS flowing! We have several SAVE BLUE MILK SPECIAL rewards left that we'd like to get out the door. With your help, we will not only meet our expenses, but be able to plan for a Star Wars webcomic that continues beyond Return of the Jedi. We'll be wrapping up our heroes' stint on Tatooine in the next month and heading back to the Second Death Star for a spell. You'll be meeting Mon Mothma, Nien Numb and getting reacquainted to Admiral Ackbar.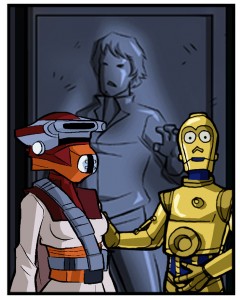 Leanne and I had intended to record a video, but after much delaying, we've both decided we're camera shy and instead we're just going to say… look… if you donate $20 or more, you will get an exclusive "Thank you" strip starring C3PO and Boussh emailed directly to you. A strip that will not be published on the website! If everyone managed $20 then BMS would be in a very good place.
And if you want to appear in a future strip in the actual continuity of the comic, then you can donate at our highest reward level to become a part of the cast! We're even doing full digital color illustrations of your favorite characters and your likeness in BMS style. We're doing what we can to sweeten the deal for any support you are able to give us to help keep our sail barge afloat.
We're not the only one's invested in reaching the end. Without you guys, Blue Milk Special would have come to a stop by now. Thank you for being with us and to many of you for becoming our friends.
We are mailing out last week's "I Love You" rewards tomorrow. All "I Know" and "Forciness" level rewards will take a little longer for obvious artistic reasons. We will share each piece in low resolution when they are completed. Some great ideas and some great new art to come!