Measuring up
on
July 13, 2015
at
9:26 am
It is one of the most famous lines from Star Wars, and just like "it's a trap!", it is notoriously overused as if its mere recital warrants cheers and high fives. But the more you hear something, the more of an eye roller it can become, especially when the person saying it thinks they are the first person to have thought to do so.
Such is the case with the 501st Legion's Victoria B. from Virginia's Tyranus Garrison. Her stormtrooper cosplay, TK 22879 is sharp and shiny and distinguished from most others in the TK designation by her height.
When I saw the small stormtrooper at Awesome Con, I thought better of saying Princess Leia's line. I mean, that would have been too obvious, wouldn't it? And talking to Vicky, I quickly learned she would get it shouted at her all the time. To the point that she actually came up with the idea for a "swear jar" where anyone who says the line to her has to add a dollar which will go to charity. I can't think of a better way to respond to what has to be a really tiresome habit of goof balls at conventions and events.
Remember kids, quote responsibly!
This, of course, inspired today's strip. TK 22879 seemed just the kind of outstanding and quirky character to bring the faceless legions of the empire to life alongside our TK 8008. So, I hope you all enjoy TK 8008's new friend, and I promise she will be back for more.
By the way, Leanne's awesome Jon Pertwee "Third Doctor" Venusian Akido poster is available if you would like to own a copy. All funds raised help support the Blue Milk Special project. Simply shoot me an email at bluemilkspecial (at) gmail (dot) com and let me know you would like a copy. You can also look at our store for more items which help support Blue Milk Special and keep both us and the comic going.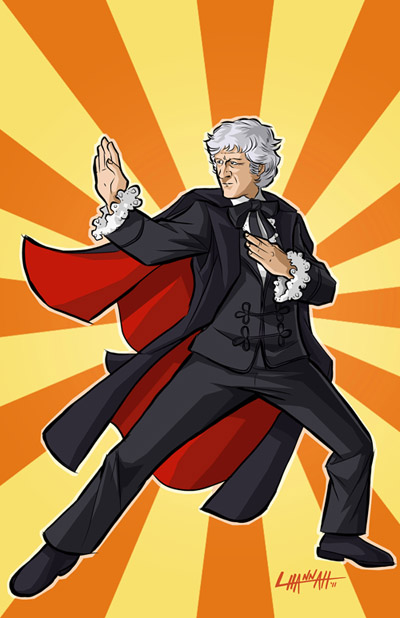 If you want to keep ahead of the webcomic schedule and see the upcoming strips before everyone else, then don't forget you can join my Patreon page. There are a lot of options for supporting my work and you can opt out whenever you like. Worth thinking about if you have time and a big help to me.