Mystery of the missing Rancor
on
April 14, 2014
at
12:00 am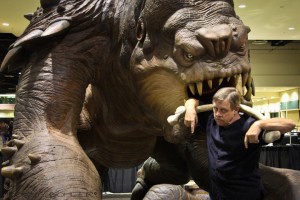 The story of the missing Rancor continues and the mystery deepens. What has happened to our beloved Roxy? For those unfamiliar with "Roxy" the Rancor, she is the masterpiece of prop design produced by the the 501st Legion's finest artisans. See last Friday's –okay, really Saturday's– strip for the first in this short series dealing with Roxy the Rancor.
I wish I could say that Roxy will be appearing at Awesome Con DC this Easter Weekend, but attendees will have to make do with Timothy Zahn, John Fass Morton (Boba Fett and Dak in TESB) and the 501st Legion instead. Oh, and Biggs Darklighter, the Anchorhead / BMS version! I'm excited! So, if we're not enough reason for you to make it to the show, then maybe some of these folks will persuade you.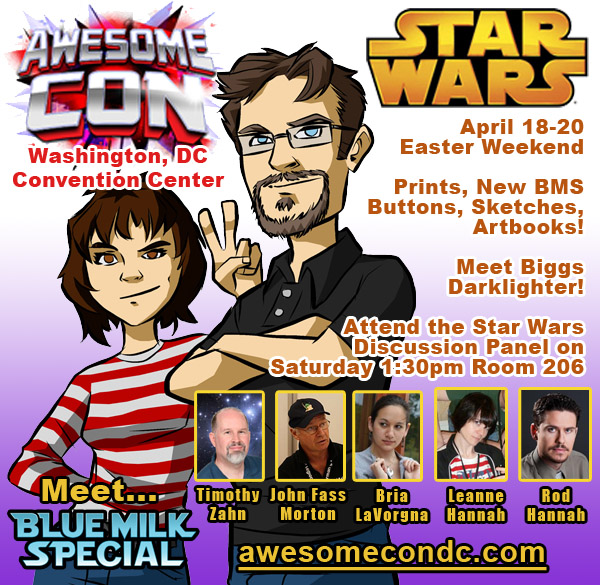 Awesome Con, Washington, DC is on the Easter Weekend. We will be in Artist Alley, at Table O9 (the letter "O"), facing the wall. Click here to download a PDF map of our table location. We are at table O-9 in Artist Alley. That's the letter O.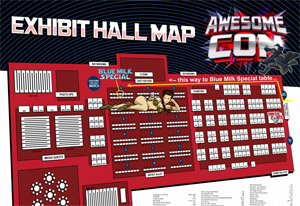 LOCATION
Walter E. Washington
Convention Center
Washington, DC
We will have exclusive new Blue Milk Special buttons at the table. This is the first ever print run of buttons and feature Biggs, Boba, Vader and Slave Leia. Pick up this first wave before they're gone and begin your collection of a series of all our major popular characters over the next year. These will be available online after Awesome Con DC for those unable to attend the show.