Carbon Romance
on
October 26, 2012
at
12:00 am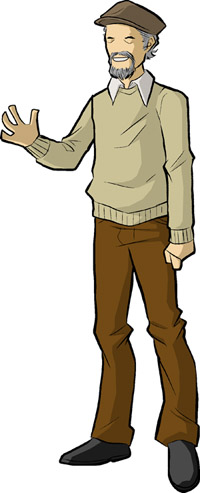 Irvin Kershner took on the directorial role from George Lucas after Star Wars (A New Hope). For many fans, Kershner is the key to why The Empire Strikes Back is the fan favorite. Kershner did an amazing job, considering he was probably in slightly over his own head with the scale of the film and the budget and behind-the-scenes dramas. He got the best out of the actors and worked closely with all of them. From what I have seen and read, he comes across as an almost fatherly figure. Like George Lucas, Kershner has previously appeared as his cartoon self in Blue Milk Special. You can see his first appearance here. I don't think George has shown up once in our TESB parody, but it feels right to break the fourth wall for another director.
Thanks to everyone who has supported us with a purchase of Leanne's books and personal sketchcards! We were really surprised and humbled by the response. Leanne has been busy working away on all the requests and we will mail the first batch on Saturday.
If you haven't purchased one yet, see below for details and remember Leanne does not normally do commissions outside of convention appearances due to other commitments. So this really is a rare opportunity to get something that is unique, and your own. At the same time, you're helping us out with your support.
CAPTAIN ANTILLES RETURNS… SORT OF
I've been on something of a BMS high this week, probably in large part due to you guys. I have added two new flashback strips starring Captain Antilles at the beginning of A New Hope, and I have also revised his original appearance to match with the new backgrounds. Doing a little bit of a Lucas in that respect. Can you forgive me? Here are the strips. Click below to read the full strips or click here: 1, 2, 3.
This year, in addition to her 2012 Sketchbook, we decided that we would collect the very best of Leanne's color pinups into a single collectors item Artbook.
The Artbook features 40 pages of color and graytone pinup art (including 3 Blue Milk Special pinups, and 1 Young Grand Moff Tarkin portrait). The book includes a centerfold of Leanne's popular Harry Potter "Order of the Phoenix" group pinup. We won't sell Blue Milk Special strips or collected works, or even prints of our BMS pinups online for ethical reasons, so this is one of the coolest ways you can actually support us and help keep us kicking!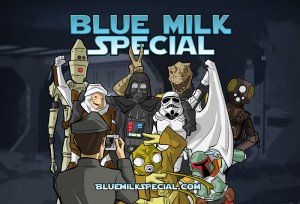 If you purchase either the Leanne Hannah Artbook Vol.1 or the Leanne Hannah Sketchbook 2012, you will also get an exclusive BMS souvenir. The BMS Bounty Hunter pinup has previously only been available as a glossy, double-sided promo card which we have given out for free at conventions.
As most readers do not get a chance to meet us at conventions, we thought it would be a great bonus to throw in this new BMS promo card as a thank you. And just to clarify, if you purchase both the Artbook and the Sketch Book, you can request two of the promocards (just note in in the "character" field upon checkout.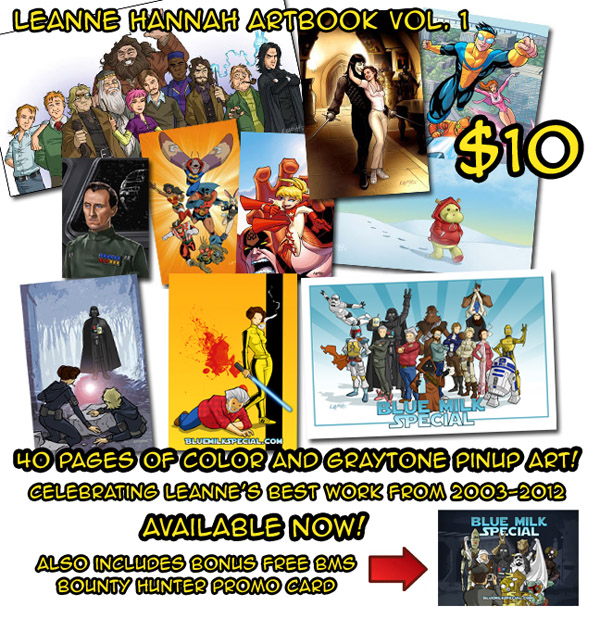 The Leanne Hannah Sketchbook 2012 collects 32 pages of black & white ink and pencil sketches illustrated from late 2011 to October this year. It includes a wide range of characters and is another great memento of Leanne's work. See the image below for examples…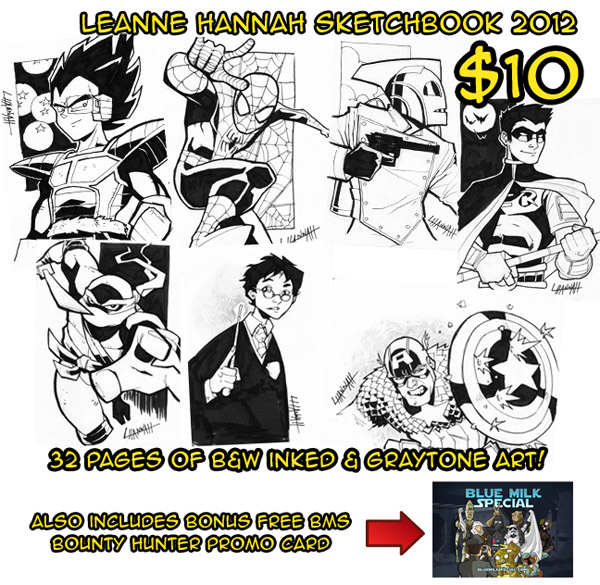 AND for an additional $20 Leanne will sketch a character of your choice on a sketch card just for you. Leanne has not accepted commissions outside of conventions for the last three years, so this is a rare chance to have your very own, unique sketchcard of whoever you want. It could be a BMS character, it could be a comic character, it could be from an HBO series, whatever you want. It will come with a protective card sleeve and be signed by Leanne.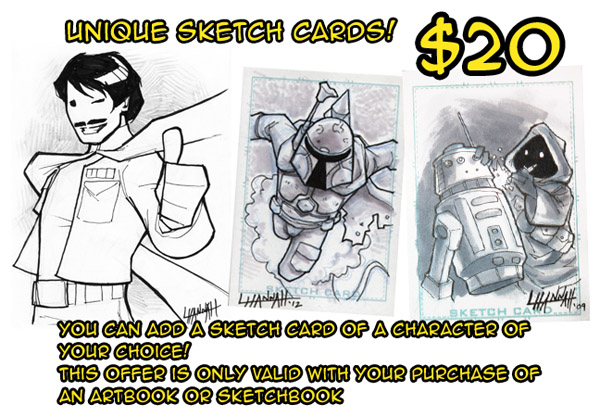 We have been publishing Blue Milk Special online as a non-profit endeavor since 2009 and anything you can do to support us is greatly appreciated. In the past, we have accepted donations, but by purchasing an artbook or sketchbook, you can actually get something physical in your hands in return. We hope you'll seize the opportunity for a sketchcard as we all have our favorite characters and these items are 100% unique and your own.