Qui Gon Genie
on
May 12, 2017
at
1:30 am
At last we can introduce our regular readers to the latest expanded cast member of Blue Milk Special! Qui Gon Genie! Or Qui Gon Djinn. But, you know, a lot of people know the term genie better.
Over the next couple of weeks I will be listing several more themed sets of Blue Milk Special webcomic strips in printed form, each individually signed by Leanne and myself. These are one of a kind and our physical reference copies for each character. We have sold off most of our collection already, but we still have the final sets for Han Solo, Luke, as well as Wedge, Lando, Ackbar & Mon Mothma, left. If you want to be the fan to own one of these sets, then please jump in quick.
Check back on Monday evening for the Wedge Antilles auction.
The BMS Wedge Antilles Ultimate Collection!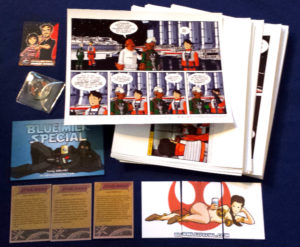 Up for sale is our personal reference copy of our online webcomic. This unique auction is for our complete set of all 46 BMS Wedge webcomic appearances, from 2009-2017.
This set of BMS webcomic prints includes the following storylines: Wedge at Yavin IV; Wedge and Biggs' Ghost; Wedge in Shadows of the Empire; Wedge vs the Fanboys and Girls; Wedge and Simon Calamari.
Wedge is one of the most beloved second tier characters from the Star Wars universe, and he's had some bizarre adventures in the Blue Milk Special webcomic that should entertain any fan. We hand sign every strip.
This set is a one of a kind and offered here to one lucky fan to help support the project. Why are we selling our own collection? BMS is produced at our own expense and not published in any collected form. To keep going, we have to raise funds to support website costs and updates / maintenance somehow. So spoil yourself, and help the comic at the same time!
We feel the set is worth at least twice what we are asking for it, but we hope we can meet each other halfway. At the price we're asking, you get these signed strips for less than $2 dollars each, including bonus exclusive Leia pin and BMS challenge coin, plus set of 6 Leia trading card with art by Leanne Hannah.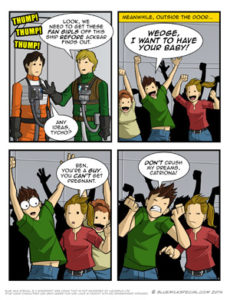 As mentioned above, if you buy now, we will include an exclusive Leanne Hannah trading card set of 6 showing the illustration process for Disco Leia. See photos.
This set includes:
46 webcomic prints on 8.5″x11″ inch glossy photo paper (signed by the artists)
Exclusive BMS Disco Leia – Art of Leanne Hannah complete trading card set of 6 (photo shows both sides, but you get just one set of 6)
BMS Challenge Coin (made of nickel metal) – two sided art
Metal Disco Leia pin
Please consider supporting BMS, whether it's through buying one of these auctions, or donating via Patreon or GoFundMe. If you want to donate to us directly through Paypal, then here is the link.
If you subscribe to us through Patreon, you get to see the next set of strips early and get exclusive content. All money helps keep BMS going from the cost of the website to helping with my expensive monthly medical bills and health insurance. We can not publish BMS for sale as it is only a fan project, so we rely on fan support for the project's continuation.