Return of the Jedi
on
September 2, 2013
at
12:00 am

At long last… the final stop on the BMS journey? Having finally arrived at the last film in the original holy trilogy, I can feel a sort of momentousness. We're going on toward five years of Star Wars "webcomickery" now. Sometimes, I wondered if we'd ever get here. I had to create a new category for this chapter of the parody, which helps it sink in a little bit. There will be a lot of new art to replace our old character models, including a new Vader. The first strip will debut this Friday.
As for the future? Return of the Jedi is all I can promise for now. So, enjoy yourself and most importantly, make the most of it while BMS is still alive and kicking, especially if you wish to see us or get a sketch at a convention near you…
This coming weekend (September 7-8) sees Baltimore Comic Con back in town. We will be at Table A68, listed as Leanne Hannah in the program. That's right, we are not listed as Blue Milk Special, but under Leanne Hannah's name. This was a conscious decision made when we registered for the table early this year. However, the Blue Milk Special banner will be flying proudly, with brand new art!
If you can make it to Baltimore Comic Con, then you can pick up a free BMS bookmark featuring brand new Return of the Jedi art, including Admiral Ackbar. First time we've ever made a bookmark, but we hope you will put it to use reading the Star Wars novels. We will also have a few of the friendly 501st guarding our table and ready to pose for a photo.
Check out our map below. Click for larger version.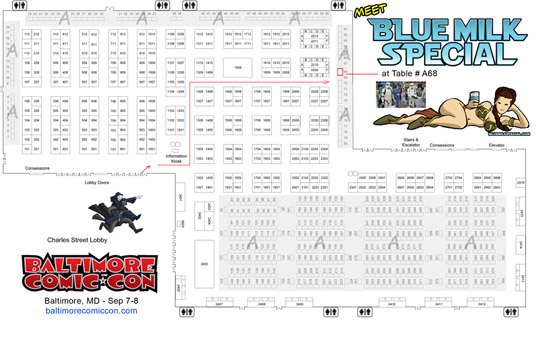 And the following weekend of September 14th, we will be in Oaks, Pennsylvania for Retro Con! This will be our first appearance in Pennsylvania. Does anyone have any survival tips?