Sail Barge Tag Team
on
July 7, 2014
at
5:00 pm
Anyone here a fan of wrestling? I'm not, but that doesn't mean that Leia and Threepio wouldn't make an entertaining tag team. Again, for those who are new to Blue Milk Special, we are dealing with Declan Jabba here, not the familiar slug Jabba. See here…
I am selling my Star Wars Cantina custom action figures. This set includes my Bea Arthur "Ackmena" custom. This year I began to sell off my Doctor Who action figures and decided to hold off on the Star Wars. But here we are with life banging on my door and I would like these to go to a good home where they can continue to be appreciated on a fellow Star Wars fan's shelf.
As you know, I have been struggling with my health for the last five years. What I hadn't revealed is that I have had to leave my day job. Hence the push for the Save Blue Milk Special campaign and the new Patreon subscriptions. If you guys can help me sell the Cantina customs then it will be a big help to us right now… and hey, it includes Ackmena (and the Tonnika Sisters, ie Space Girl #1 and Space Girl #2)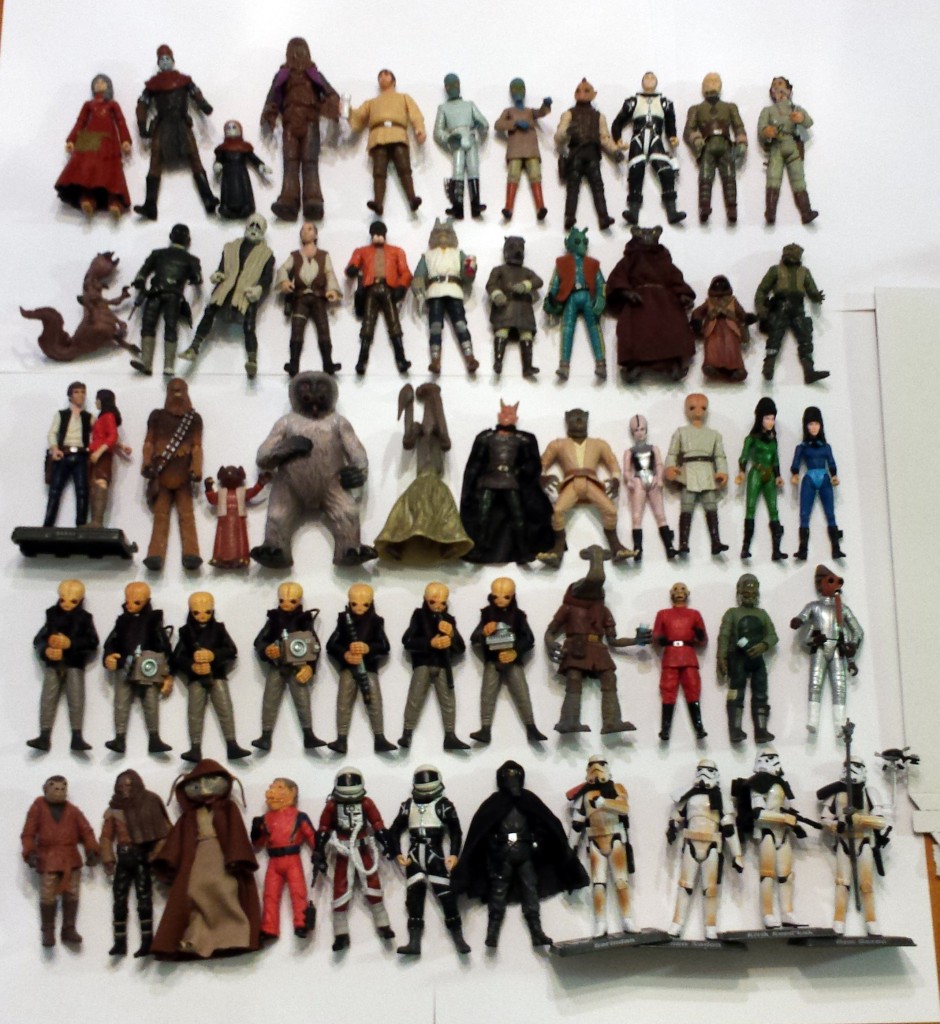 So here are some photos and below is a list of what you get.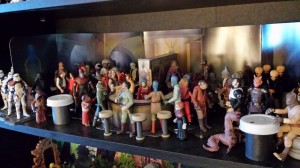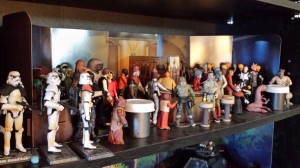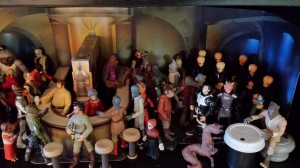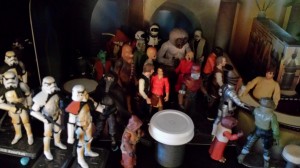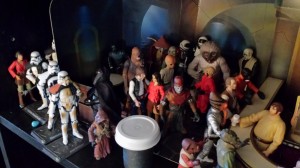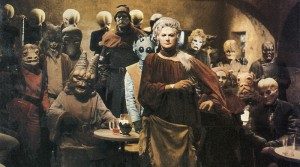 Bea Arthur "Ackmena" custom
Tork (Cantina bouncer)
Ackmena's little sidekick
Chalmun the Wookiee custom
Wuher the bartender
Ellors Madak (blue headed alien #1)
Banis Keeg (blue headed alien #2)
Bom Vimdin (horn head)
Bo Shek (space pilot smuggler)
Brainiac
Dannik Jerriko the smoker
Dice Ibegon (snake thing)
Djas Puhr (black-skinned, dome-headed alien)
Elis Helrot (ghost face guy)
Dr. Evazan (guy who is a dick to Luke)
Ponda Baba (Walrus face)
Feltipern Trevagg (monster boyfriend)
M'iiyoom Onith (monster girlfriend)
Greedo
Hem Dazon (traingular-headed alien in robe – custom)
Het Nkik (Jawa out for revenge)
Hrcheck Kel Fas? (Saurian type guy, similar to Bossk)
Han Solo (lovable jerk smuggler)
Chewbacca (walking carpet)
Jenny (the Cantina Whore – see upcoming BMS strip)
Kabe (bat headed midget)
Muftak (big white furry thing)
Kitik Keedkack (Praying Mantis)
Labria custom (Devil Man)
Lak Sivrak (teen wolf)
Leesub Sirin (girl with the dome head)
Lirin Car'n (Bith patron)
Tonnika Sister Space Girl #1
Tonnika Sister Space Girl #2 (just finished these two)
Complete Cantina Band (all seven members) #1 Doik Natts on the Peel Rod, #2 Lars M'yer on Gasan String Drums, #3 Figrin D'an on the Kloo Horn, #4 Tedn H'ai on the Fanfar, #5 Nalan Cheel on the Bandfill, #6 Ickabel G'ont on the Rakassah stand-up bass, #7 Tech Mor on the Omni Box
Momaw Nadon (Hammerhead)
Mosep (Jabba's accountant)
Myo (Cylcops)
Nabrun Leids (girl in silver suit with four arms, respirator and goggles)
Takeel Snaggletooth
Trinto Duaba (gaunt-faced guy in hood)
Wioslea (ugly alien who buys Luke's landspeeder)
Zutmore
4x Stormtroopers (orange shoulder, white shoulder and 2x black shoulders)
Garindan (Mos Eisley spy with snout that makes adorable squeaking noises in the film)
More info… Cantina characters list
That's 56 figures. If each was an average of $15 (many are rare and worth $25 or more, and customs even more expensive to source and piece together and paint) then that's $840. I am looking for upwards of $600.
This is nearly all characters from the Star Wars cantina, certainly all that have been released in action figure form, including several that have not which I have made through custom work. There has to be a rich collector out there that would like to take these. $700 would be nice.
Again, this is about helping me out financially while I battle with my health. I have degenerative disc disease, arthritis of the spine in the neck and radiating out to my arms and hands. It effects almost everything I do. I could be worse, but at the same time it is bad enough to impact my life and impose large limitations on what I can do. I'm sharing this for your understanding, not to get sympathy. I would happily hang onto these figures and share them with my children someday, but the short term future is more important right now.
Contact me at bluemilkspecial @ gmail.com