Sandworm Assistance
on
June 13, 2014
at
12:00 am
Thanks to Celidah for this great BMSed misquote from Dune.
"It is by Forciness alone I set my mind into motion. It is by blue milk that thoughts acquire speed, the lips acquire stains, the stains become a warning. It is by Forciness alone I set my mind into motion."
Now for the poll results. We left this one up for well over a month and collected quite a large sampling at 1400+ votes. We asked who was the best Sith Lord. The fact Darth Lucas came third showed how seriously our readers took this question. However, behind the obvious winner, Darth Vader, was Darth Revan. So, we will reward this popular Sith Lord with a cameo in a BMS strip in the near future. Inevitably, I missed at least one really important Sith Lord… Darth Tyrannus, Count Dooku himself. Since I'm a Christopher Lee fan, I hang my head in shame. But, he may make a cameo as well since we're fans of the actor.
The results of the poll are below. Check out our new poll in the right side bar.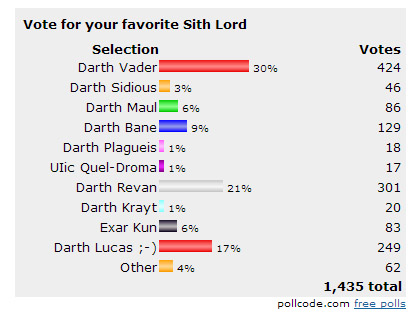 VOYAGE TREKKERS THE MOVIE
I'm pouring all our focus into supporting Voyage Trekkers the movie right now. I'll be working on something this weekend. Please check them out, watch the series and consider supporting the movie project. You can even be in the film! VOYAGE TREKKERS MOVIE INDIE GOGO CAMPAIGN.