Scum and villainy
on
July 10, 2009
at
12:00 am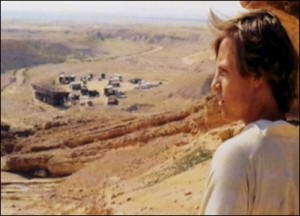 This is the 60th Blue Milk Special strip and we've just reached Mos Eisley Spaceport. That means we are now 42 minutes into the first film. The film is 2 hours long! But here at team Blue Milk Special we aren't worried. No sir. There are entire story arcs and spin off adventures lined up beyond the events of "A New Hope". But first, it's time to hit the slot machines of Mos Eisley. So buckle your safety belt, sit tight and hang on to you light sabers because this is going to be one hell of a ride!
In the words of Obi Wan Kenobi, "let's get wasted!"
Vote for Blue Milk Special on TopWebComics!
To start reading Blue Milk Special from the beginning click here.