Sharing the Same Bed
on
April 21, 2017
at
12:00 am
Ever shared a bed with a Twi'lek? It can be unsettling! Of course, I speak from personal experience, having formally been in a sexual relationship with Bib Fortuna…. I kid! I kid! Click here to view the beginning of the story of Biggs Darklighter and Oola Oop.
Here's the update on Biggs' Darklighter's furry counterpart, our sick kitty, Biggs Pawlighter. Here's a pic of the sweety.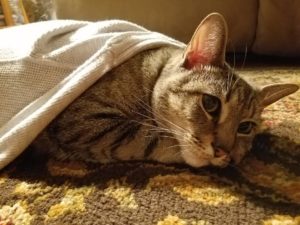 As I mentioned last update, Biggs was howling in pain last Saturday and after checking him into the emergency vet clinic in Waldorf, MD, we learned he had a blocked bladder. Common in male cats, and fatal in the wild, and very quickly anywhere else, without urgent attention. We left him in the capable and friendly hands of the 24/7 veterinary staff and visited him each day. After three days at the clinic, and a couple of blood clots that hampered his progress, we took over his care at home. It has been a very scary experience and we're left with no doubt as to how attached we are to our little guy.
We had another scare with Biggs this morning. We were able to bring him home almost two days ago, but he has been having real trouble urinating and defecating. He has little to no appetite, and he has been leaking around the house mostly because of the sedative and little self control. We took him to our regular vet this morning and had his bladder checked out. It isn't blocked, though probably inflamed, as we suspected. So we were given medication to help with that.
Otherwise, we were mostly reassured that there wasn't anything that appeared in need of urgent attention. However, we will take him back to the emergency clinic for their internal medicine specialist if necessary. We are spoon feeding him, and coaxing him to drink. It's a lot of work, and when you're on your own, it's more challenging because you don't have that other person with you to reassure you and help you not give up too easily. Getting him to eat and take his sedative is very challenging with just two hands.
We're going to try and help him relieve his bladder and possible a bowel movement. I really miss seeing our sprightly, mischievous little cat. We just have to keep working hard 24/7, making sure he gets nourishment, his prescription at the correct hours, even the middle of the night, and monitor him… and watch out for puddles on the floor. Thanks to everyone who has been able to help in the gofundme campaign, and to everyone else who has been supportive.
The estimate was for two days at $2500. So I started a GoFundMe campaign called Biggs' Bladder Battle. However, Biggs ended up having blood clots that slowed down the process and he had to stay for a little over three days. In fact, he only came home because we agreed with the doctor that in a more familiar and less stressful environment at home, he may start eating again. He's been home for nearly two days now, and it has been a little scary seeing him so vulnerable and helpless. However, he has shown some positive signs, as mentioned above. Obviously, money is second in our minds to Biggs' well-being, but it has helped with that extra level of anxiety that comes with being hit with an unexpected bill for thousands of dollars. So the GofundMe campaign and everyone who has been in a position to contribute has played a part in making things just a little less nerve-wracking over the past week.
Thank you!
If anyone is able to contribute, it will be of great help to us in weathering this unexpected family crisis. If you can donate more than $20 we will send you a signed BMS postcard. Make sure to include your mailing address.
Please consider supporting BMS, whether it's through buying one of these auctions, or donating via Patreon or GoFundMe. If you want to donate to us directly through Paypal, then here is the link.
If you subscribe to us through Patreon, you get to see the next set of strips early and get exclusive content. All money helps keep BMS going from the cost of the website to helping with my expensive monthly medical bills and health insurance. We can not publish BMS for sale as it is only a fan project, so we rely on fan support for the project's continuation.