Skiff Guard Pan Handler
on
June 6, 2014
at
12:00 am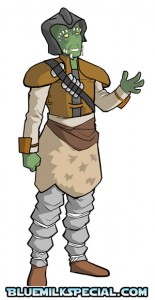 M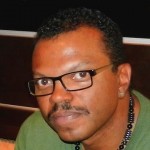 eet Wooof, a Skiff Guard who isn't afraid to speak the trooof. *sigh* Wooof is the guy with the green face and sheep skin crotch. In fact, Corey Dee Williams, son of Billy "Lando" Dee Williams, played the part of Klaatu (or Wooof as he is alternatively known). He's on Facebook and really cool, as you might expect.
It's funny, with all these online fundraising networks out there, things like reward tiers and crowd sourcing have made organized pan handling socially acceptable and fun. A bit like buskers performing for money, or street vendors offering trinkets for your generosity. Now that Leanne and I are getting more acclimatized to crowd sourcing, it seemed appropriate to channel some of our sense of humor into the BMS strip itself. It is my solemn hope that from now on, everyone who has read this weeks' strips will forever view the Skiff Guards in Return of the Jedi as preoccupied with Kithaba's fertility treatment issues.
We've far exceeded our initial goal for the SAVE BLUE MILK SPECIAL CAMPAIGN. However, not only am I offering a digital copy of our exclusive "Thank You" strip for $20 dollars or more, but I am now offering a SECOND exclusive strip for donation of ANY AMOUNT. Donate a single $1 dollar, or $1 million and you'll get a strip starring Luke and Han Solo set during ANH. However, you will still have to donate over $20 to get the Boussh and C3PO exclusive.
Nathan Blackwell and Craig Michael Curtis launched their VOYAGE TREKKERS MOVIE CAMPAIGN this week. Their goal is to raise enough money for pre-production of a full length Voyage Trekkers movie. Regular BMS readers should already be familiar with Voyage Trekkers from my numerous posts over the years about the sci-fi comedy webseries. The goal is going to be challenge without the help of as many people as possible to spread the word. I hope you'll join Leanne and myself in helping make the Voyage Trekkers film happen. We might even do a Voyage Trekkers strip in the near future! Find out why we love it and the creators so much by watching the video.
If I can drink the Blue Milk Special for a moment, humor me… BMS is like a child for Leanne and myself… well, almost. We aren't putting it up for adoption but help with putting it through college is needed. You want to see your project grow and be the best it can be. You have a flaming ball of love in your chest that swells up when you think about it. That's why I want success for Nathan and Craig with their Voyage Trekkers movie. I know what a creative drive can do to your heart and how much it can mean. I hope we're not alone and that readers out there understand a little of what it's like.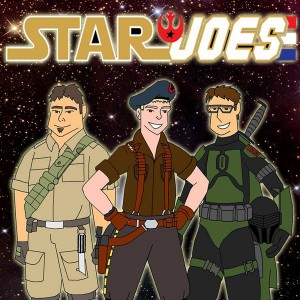 Guess what! Blue Milk Special got a big shout out the other day. Listen to the Star Joes Pod Cast talking about the Save Blue Milk Special Campaign. 3 mins in. Thanks guys! Check out Star Joes for G.I. Joe and Star Wars news and laughs. If you like the two, then you can't go wrong with them! They're also on Twiiter.
Eric Grubb, a true BMSer, took his Blue Milk Special T-shirt with him to meet John Ratzenberger down in Florida last weekend. Ratzenberger is of course one of the stars of the classic 80s sitcom Cheers, as well as being a Pixar voice artist and most importantly a background extra Rebel in the Hoth base during Empire Strikes Back. John inquired about the shirt. Leanne asked Eric if he said BMS is a "bitchin' ass webcomic"? A true Cliff Clavan line if ever there was one. Eric replied he told him "its a parody webcomic that I love dearly. He said that we all need to laugh if we want to get through this life."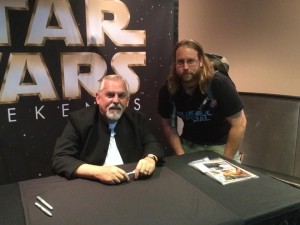 I'd also like to thank Sean Murray at Atomic Moo for helping spread the word about our SAVE BLUE MILK SPECIAL campaign. He wrote up a very kind article about BMS which you can read here. Thanks for the support, guys!