SLAVE-I Security
on
May 6, 2013
at
12:00 am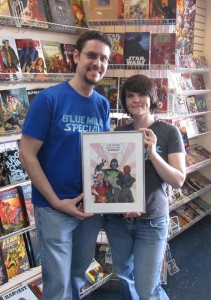 Free Comic Book Day 2013 was a lot of fun! Though we only had ONE reader make the trip to see us, we met a lot of local comic book fans and watched them laugh as they read the sample strips on the back of our promo cards. So hopefully a few new readers this Monday! Leanne knocked out a number of free sketches for kids (who knew Wonder Woman was so popular with the kids?) and drew a couple of commissions from Mass Effect and Ninja Turtles. I was amazed at how quick Leanne was able to turn a blank piece of paper into a great piece of art. I'm in the shadow of her talent, that is for sure!
We also had our photo taken with the piece of art that we worked on for Morgan, the little girl from Frederick, Maryland who lost both her younger sisters in a tragic house fire last month. Morgan is just 8 years old and happens to be a Star Wars fan. When Eric Grubb, a friend of ours from the 501st Legion's Old Line Garrison let us know about their effort to rally up Star Wars goodies to donate to Morgan, we not only wanted to help pass along the message to our readers, but give something to Morgan of our own. The illustration is of four of her favorite characters from Star Wars. We hope she will like it.
Please, if anyone out there has anything they would like to donate, and can get it to the Old Line Garrison within the week, please do so by contacting the coordinator, Emily Zalewski.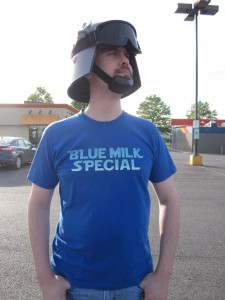 Here I am, sporting Eric's AT-ST driver helmet! One of the highlights of the day!
There will be a very special Blue Milk Special event this coming Saturday, May 11th! Leanne and I will be at the at the ANS Sci-Fi & Comic-Con in La Plata, Maryland where the Old Line Garrison will be honoring us as Friends of the 501st Legion!
We would truly appreciate the attendance of any supporters who can make it to the show and promise special goodies!
Leanne and I will also be part of a panel called "How to Make Your Own Comics". The discussion is intended to cover topics that might be of interest to young creative people who are interested in getting into the comics business, or would like to self publish their work.
Along with ourselves, guests at the ANS Sci-Fi & Comic-Con include Frank Cho and the 501st Legion's Old Line Garrison. This is a small, single day show — Saturday only. Doors open at 10am and close at 3pm. Between ourselves and the Old Line Garrison we will ensure that there is a strong Star Wars presence at the show. Come on down and get a photo with Star Wars characters, or Leanne and myself. Get a sketch of your very own. Pick up a free glossy full color BMS promo card or two!
Show your support!