Splinter of the Mind's Eye
on
September 22, 2010
at
12:00 am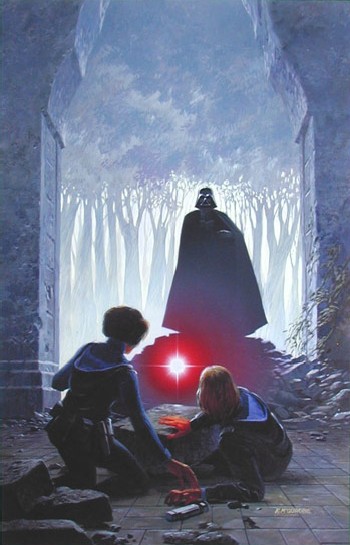 Splinter of the Mind's Eye crept up like a tiger and pounced! Yes, starting today we move one step closer to The Empire Strikes Back. Written as a proposed sequel for the original 1977 Star Wars film, George Lucas handed over a few ideas to prolific sci-fi film-to-book adapter Alan Dean Foster. At this point in the Star Wars mythos much that would be set in place over the next couple of years was still up in the air. Foster took what Lucas had, along with Lucas' concepts like the Kaiburr Crystal (the red glowing thing in the cover image above) and took Star Wars in a slightly different direction. Splinter of the Mind's Eye was intended to be the outline for the actual sequel to Star Wars IF the film did not perform well at the box office. The basic idea was that it must be capable of being produced on a significantly reduced budget. I'll talk more about the changes and resulting discrepancies with the eventual Star Wars universe as we come to them over the next few weeks.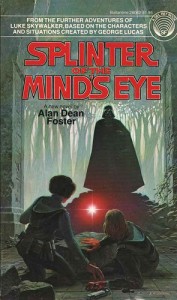 Why adapt Splinter of the Mind's Eye into the BMS continuity? Because, as you can see by Ralph McQuarrie's outstanding book cover, there is something very alluring about the concept and the visuals. Luke and Leia on a world that is clearly the precursor to Dagobah… a cross between Dagobah and Yavin IV with a bit of Mos Eisely thrown in. Luke and Leia as a team. And both Luke AND LEIA getting to fight Darth Vader for the first time. Yes, Leia wielding a lightsaber. Oh, I know what some of you are saying…
You're saying "Rod, Leanne, why do you guys want to adapt this mess?"
Because we owe what was basically a good idea whatever small tribute and recognition we can give it. This isn't the Holiday Special, people… this is much closer to Star Wars. Something had to have filled that long gap between the events of the Star Wars movie and The Empire Strikes Back.
For those unfamiliar with Splinter of the Mind's Eye I should point out that it has some shockingly awkward and heavy-handed prose (you think MY blogs read bad, then try reading the first couple of chapters of this book), a dawdling lack of pace, nothing particularly thrilling that actually happens until the very end, and perhaps most noticeably, no bragging smuggler. Oh, and Luke and Leia quite possibly got it on.
However, Splinter of the Mind's Eye was the first step into the Star Wars expanded universe for the franchise (with the possible exception of the Russ Manning newspaper strips). It retains a sense of imagination that feels more appropriate and fitting with the Original Star Wars trilogy, and, with a little work here and there, it feels like it can still fit into the scheme of things as a side adventure between Star Wars and The Empire Strikes Back. Most importantly though, there's a lot of material in this story just begging to be BMSed. If you've never read either the book or the Dark Horse comics adaptation then we hope you will still appreciate another side adventure staring some of your favorite characters. We have some REALLY special strips coming down the pipeline and there may even be a few guest appearances. ;=
Don't forget, we are looking for helpers at New York Comic Con on October 8 – 10, 2010 at the Jacob K. Javits Center. We will be there with a table in Artist Alley. If you're interested in helping us out during the show, especially if you are planning to wear a Star Wars themed costume, please get in touch with us. 🙂
New to Blue Milk Special? Start reading from the beginning!