That wasn't the deal
on
September 21, 2012
at
12:00 am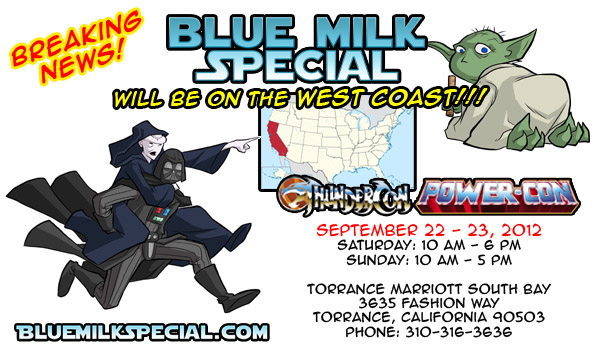 Blue Milk Special will be at Power-Con in Los Angeles this weekend! It's a Masters of the Universe, Princess of Power and ThunderCats show, but that doesn't mean Star Wars fans can't crash the party! 😉 We have never appeared together on the West Coast, so if you live out that way, or are heading to the show, make sure you come and see us. Pick up the new FREE Bounty Hunters promo card at our table and all that good stuff.
Why Power-Con? Leanne was the editor for the studio MVCreations, publishers of the Masters of the Universe 2002 reboot comic. The first issue was the bestselling comic of the month and coincided with the animated series reboot from Mike Young Productions. She also worked with music artist Rob Zombie on his comic anthology, Spookshow. Leanne will be part of the MVCreations panel and will have a table at the show where both she and I will be doing the sketch thing and pimping Blue Milk Special.
You can find full details about the show at the official Power-Con website. Please share with your friends and help make the second annual Power-Con a success! Also check out Leanne's blog update over on her professional site. Many samples of her work can be found in the gallery.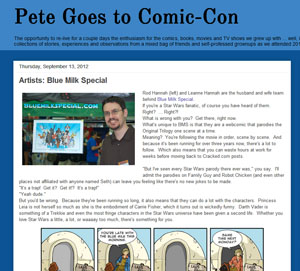 It's always nice to get a GREAT review of Blue Milk Special, and especially so when the reviewer goes by the name GrouchyPete. The new blog, Pete Goes to Comic Con, features interviews, reviews and photos of various creators and their projects, Blue Milk Special included. There are a number of articles up already that should prove interesting to comic readers. Head on over and take a look!
As always, we welcome reviews of Blue Milk Special. The more the word gets across the net, the more search engines will love us… or something. I don't understand all that stuff very well. Actually, if you understand web marketing and want to give BMS some free help, contact us. Between making new strips and staying alive, it's hard to promote this project on my own. 🙂