The Grip of the Force
on
October 1, 2012
at
12:00 am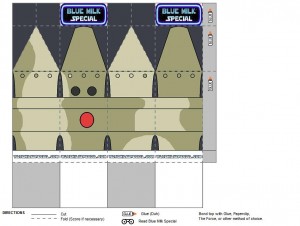 BMS team member T. Gatto is already known to many of our readers as the creative mastermind behind the paper milk cartons available for a huge selection of the BMS characters. The BMS art style translates remarkably well into the milk carton format and makes for a fun project and a nice free memento that any fan with a printer, a pair of scissors, some glue and plenty of determination can craft for themselves. Tom set up his own page on Facebook where you can download not only the BMS cartons made to date, but cartons from other webcomics and movies, including Indiana Jones. Today, we are debuting Tom's latest wave of BMS cartons: the Bounty Hunters!. They include: a tweaked Boba Fett, Skorr, TK-8008, Greedo and Ice Cream Han-wich, along with brand new Bossk, IG-88, Dengar, Zuckass aka Suckass, 4-LOM, the Gorn and Breedo (Greedo's Sombrero wearing, high-heeled cousin). You can find them in the downloads section. A big thanks to Tom for making these. Hopefully we see some assembled photos soon!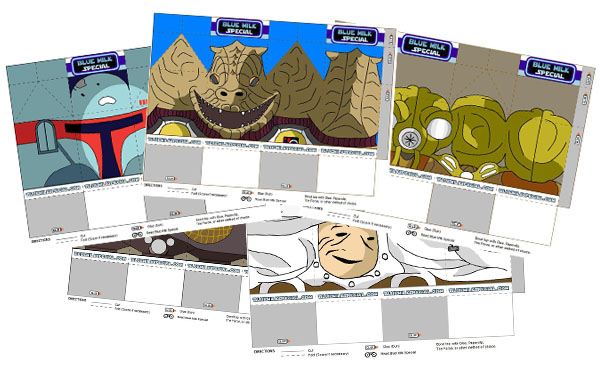 I just wanted to give BMS readers a heads up that Leanne's twitter account: @stratosmacca will be debuting new Star Wars art and sketches over the next few weeks, exclusive to Twitter. Leanne, is of course, the sexier half of the BMS creative duo. In the past she has shared her conventions sketches and personal sketches via twitter, but will be sharing original pieces starting with Boba Fett. If you are a Twitter person, you might like to follow Leanne to get the art updates and communicate with her directly. You can also follow @BlueMilkSpecial on Twitter. That's me.
Last blog post, I made a typo in the email link when I asked for people's suggestions for the impending Shadows of the Empire BMS parody. I have since corrected the link so that it now works, but I'm making the call again. If you have any thoughts on Shadows of the Empire before we begin, please email them directly to me. For spoiler reasons, I do not want to include Shadows discussion in our BMS comments section at this time.
With September 2012 finally coming to an end, BMS has been to Baltimore and Los Angeles, as well as to the Top 10 of TopWebComics.com. The popular webcomic directory has listed us for several years now and, thanks to our loyal fans, the climb from obscurity in the Top 300s all the way up to the Top 30 has been a long but steady one. In September 2012, we cracked the Top 10. Perhaps I should say flirted, rather than cracked. It was all we could do to hold on to 10th place, slipping for a week or so to 11th, but reaching 10th again by the final weekend of the month. As we enter October, the webcomic listing is rebooted for the month and everyone must start over again. Whether we remain competitive in the Top 20, or manage to break the Top 10 once more, will be up to you guys, but I want to thank everyone who has voted daily for us and helped us achieve this milestone. Blue Milk Special's web stats also achieved 8,207 UNIQUE VISITS to the website on Thursday, and 34,349 page loads. That is a record number of site visitors for a single day for BMS. As The Wanted would sing it, we're "Glad You Came". 🙂