They got away… again
on
February 15, 2013
at
12:00 am
Calling all LEIA fans!
We know BMS Leia is one of the most popular characters in the strip, but what is the best smoking Leia strip of all time (so far)? Which do YOU think is the best? Any nominations? Time to discuss! Also, if you're a big Leia fan perhaps you can help one of our fans track down a copy of a photo? See below…
UnderScoopFire, the official judge for the Geekie Awards (for indie creators and artists) just pimped out Blue Milk Special on his blog. Looks like someone liked the talking Tauntaun. It seems our disturbing humor paid off! 😉 Check out his great blog and let him know what you think of Blue Milk Special! Maybe we can get some more recognition from our peers out there if they just knew we existed!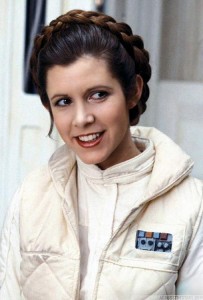 Okay now… It's "help the friends of BMS day".
Our friend Karen is looking for a high resolution version (for print) of this Princess Leia photo from Empire Strikes Back. If anyone out there can help, please let us know quickly. Perhaps if someone can find it in a book or magazine and scan it at a high resolution they could email it over. Sadly, it is not to be found in Rinzler's Making of Empire Strikes Back book. This is for an upcoming convention where Karen will be meeting Carrie Fisher! Hey Karen, can you give her a BMS promo card? 😉
Our friend Eric (a 501st Legionary and a member of the Old Line Garrison) has started up the Awesome Movie Podcast which you should check out! The first episode covers that 80s gem, Highlander!
Our friend Kevin Conn, part of the Blue Milk Special podcast team, has started a NEW project: a series of funny G.I.Joe PSA's! Please donate if you can.
Check out our friend Chris S W Simmons' Star Wars: Facebook'd site. The creative members post Star Wars humor following different themes each month and are a wonderful, friendly bunch of fans to hang with.
Our friend Scott Wilkins needs donations to bring back his webcomic Citrus Comics! It has run for several years but hard economic times forced Scott to put the the fruit in the fridge, so to speak, in 2010 I hope that day never comes for Blue Milk Special! Although we don't currently ask for donations, if you like to support other artists, I encourage you to help out Scott. He's a wonderful guy and a long time supporter of Blue Milk Special.
Speaking of BMS webcomic buddies, our friend John White is re-running his Star Wars: Age 9 webcomic. He also has a great Alien: Age 11 webcomic. Definitely worth checking out!
What happens when your Star Wars toys unite with Star Trek, Barbie and domestic cats? Our friend Phil Custodio has a great webcomic that answers that very question! Living Room Wars is a real gem!
Our friend HelloGreedo has now debuted on Twitter and his YouTube channel has just past the 6000 subscriber mark. Congratz!
Meanwhile, on Hoth, Barry has been busy…