Time Out
on
September 3, 2010
at
12:00 am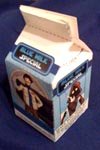 During the Baltimore Comic Con we tried out a do-it-yourself paper milk carton, customized with Blue Milk Special imagery. The idea and template came from T. Gatto, one of our biggest fans and a frequent commentator. The one demo version I made before the show (very fiddly by the way) proved that I should have printed onto heavy card stock instead of thin for better results.
Interest was greater than we expected and the 5 prints I had made disappeared quickly. Now we offer the BMS milk carton template free to download as a PDF so that anyone interested can have a go. If you have any suggestions for new artwork to replace existing sides of the box then shoot us an email or leave a comment. We rushed to throw it together and I'm sure it could look better! 🙂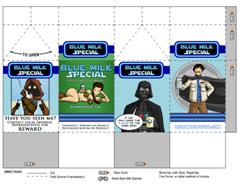 Also, to those that have emailed us concerning getting copies of the BMS promo cards mailed to them, don't worry, I have your emails and I will respond. We've just been completely overwhelmed lately. We still have plenty left and we will need major help at NYCC in order to get rid of them all. Volunteers? Hmmm? 🙂 *yoda laugh*
New to Blue Milk Special? Start reading from the beginning!