Vader Phone Call #1
on
June 4, 2010
at
12:00 am
It was about time for a change of scenery and the return of our favorite Sith Lord. Oh, and the return of somebody else too. Smoking Jawa seems to be gaining popularity. More about him soon…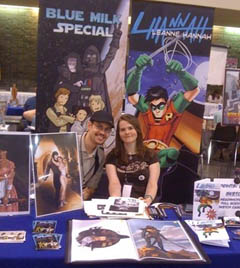 Yesterday we announced that Blue Milk Special would have a table at Baltimore Comic Con (August 28-29) and New York Comic Con (Oct 8-10). If you will be attending and would be willing to not only meet us but to help us pass out our stash of exclusive Blue Milk Special promotional postcards to passers-by, then we would be most grateful. We would ideally like to find some Star Wars costumed fans to help drum up some attention and direct attendees to our, most likely, hard to find table. If you or any fans that you know might be interested, please get in touch with us.
Gift items that we currently have planned include badges, postcards, bumper stickers, BMS milk cartons (assembly required) and sketch cards. We will not be selling any compilation books this year, so all you collectors look out for our all new exclusive convention gifts. By Baltimore Comic Con we will be in the midst of our Splinter of the Mind's Eye parody, and by NYCC we will finally be starting The Empire Strikes Back. Expect to see some early previews of Yoda and Lando, exclusive to the con. Credit to one of our readers, T. Gatto, for the milk carton idea!
If you will be attending Star Wars Celebration V in Orlando and would like to help out Blue Milk Special (we sadly can not attend), again please get in touch with us.
Are you new to BMS? If so, then you can start reading this webcomic from the beginning by clicking here.
Watch the Star Wars Holiday Special animated short below, courtesy of YouTube.