Vader Phone Call #2
on
June 7, 2010
at
12:00 am
Yeah, we know Darth Vader should get a thermal mug with a lid, but that wouldn't be as funny. ;=
By the way ;= is a winking Vader smiley. Just made that up.
Looks like our search for volunteers at Celebration V is over. A big thank you to De Jawa Vu and his friends from Star Wars Addiction forums for answering our call! Check out their excellent Star Wars forum if you're not already a member. Many active discussions and some very creative humor.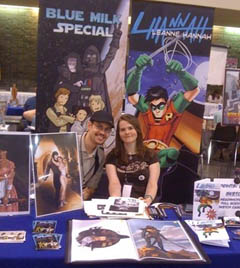 Last week we announced that Blue Milk Special would have a table at Baltimore Comic Con (August 28-29) and New York Comic Con (Oct 8-10). If you will be attending and would be willing to not only meet us but to help us pass out our stash of exclusive Blue Milk Special promotional postcards to passers-by, then we would be most grateful. We would ideally like to find some Star Wars costumed fans to help drum up some attention and direct attendees to our, most likely, hard to find table. If you or any fans that you know might be interested, please get in touch with us.
Are you new to BMS? If so, then you can start reading this webcomic from the beginning by clicking here.
Watch the Star Wars Holiday Special animated short below, courtesy of YouTube.