Vader vs Solo #2
on
September 14, 2012
at
12:00 am
Although both Blue Milk Special and the Old Line Garrison are based in Maryland, we could always benefit from a few more geeks. Southern Maryland has the Chesapeake Bay, mountain trails, history and crab cakes, but it's nice to know there are at least a few die hard Star Wars fans just around the metaphorical corner with their own souvenirs and strong club identities.
Check out this awesome Old Line Garrison coin. A special thank you to Eric (both an avid BMS reader and garrison member) for giving the coin to Blue Milk Special. Leanne was especially delighted with this metal memento, uniting her home state of Maryland with the Galactic Empire. This thing is weighty too, like a poker chip made of lead.
Many are aware of the 501st Legion and Rebel Legion, but for those that are not, they are non-profit organizations of Star Wars fans who cosplay for charitable events all over the world, raising millions of dollars each year. Yes, MILLIONS of dollars for the benefit of those in need! The 501st Legion is divided into regional chapters known as garrisons, and being that Blue Milk Special is based in Maryland, the local branch is the Old Line Garrison, named after Maryland's nickname "the Old Line State".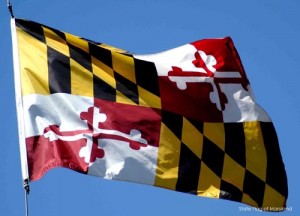 The Old Line Garrison has 62 active members. Although Leanne and myself are not counted on their roster, we support and respect the work of our fellow Star Wars fans and wish them another successful year of trooping. Making a difference in the lives of those that need it most, has to be twice as rewarding when it is also your hobby.