Waiting for Vader – Part 1
on
September 6, 2013
at
12:00 am
I'm sure all our 501st Legion friends will be able to appreciate the above circumstances during their long "troops". You know one of these poor boys in white has got to have been in this situation while Vader was jabbering.


Today, Moff Jerjerrod makes his subtle debut. He has really grown on me over the last year. He seems like he's "almost" a nice guy, caught within the system. Trying to make the best of it. The reluctant Moff! We'll explore this further next week… But for now, let's just enjoy the start of Return of the Jedi, BMS style!
As I tried to tell readers last week, BMS will no longer be updating on a regular schedule. We will endeavor to put up a strip on Monday and Friday, but this is just an ideal, not a goal. I mentioned a couple of posts ago that Leanne and I have some of life's hurdles to get over, including new projects that have to take priority over our BMS hobby. That said, don't expect a hiatus anytime soon. All going well, you will find at LEAST one strip per week, even if it ends up being on a Wednesday.
You can come and meet us this weekend (September 7-8) at Baltimore Comic Con. We will be at Table A68 with a new Blue Milk Special banner flying proudly behind us, pictured on the right. You can also pick up a free BMS bookmark with the banner art, along with our promo cards.
Check out our map below. Click for larger version.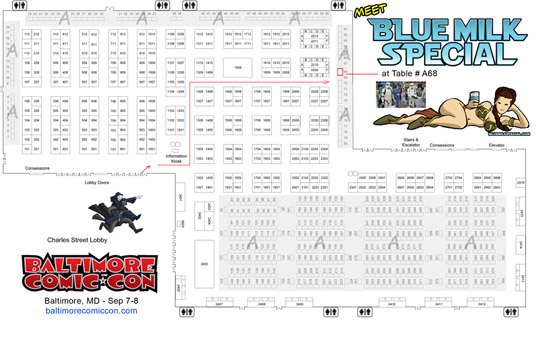 Commission Sketches 101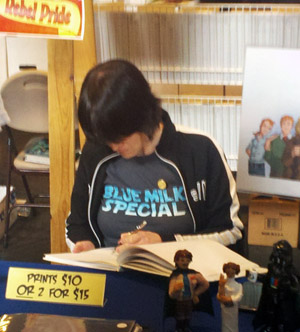 Approaching an artist at a convention for an original commission of a character of your choosing might seem intimidating. Typical options that Leanne offers are sketchcards, the size of trading cards and 9″ x 12″ bristol board sketches. What level of detail you would like is up to you and ranges in price. You can pay in cash, or by credit card thanks to Leanne's handy phone app and plugin device.
If you have an idea for a character you would like Leanne to illustrate, while it does help to bring reference, smartphones and Google image search mean that reference is only a few clicks away, provided that we have a damn signal to the phone!
While Leanne DOES NOT do colored pieces at shows, both she and I do digital colors at our studio. At conventions, the choices are limited to one of the following levels of detail pencils, inks, graytones. The latter might need some explaining. A graytoned commission is inked artwork that has been gray-shaded using varying tones of gray markers.
Here are a few examples of Leanne's convention sketches:
Pencils…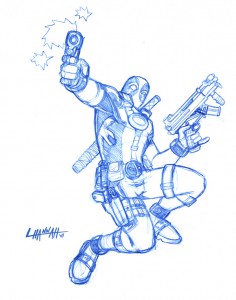 Inks…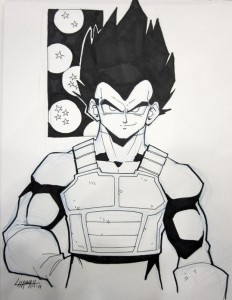 Graytones…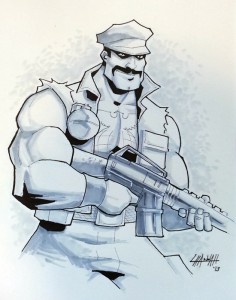 Leanne also offers graytone Sketch Cards both at conventions and via email commission. These are on 2.5″ x 3.5″ inch card, inked and graytoned. Sketch cards come with a hard plastic sleeve for protection. Leanne's sketch cards are like getting miniature versions of a full size graytone commission, only they cost less and take less time to complete.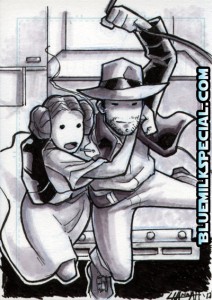 Outside of conventions, Leanne's commissions can be much larger and much more complex like this color villains piece and this Harry Potter graytone. These commissions are much more expensive and often feature digital colors.
While you can have your sketch on 9″ x 12″ bristol board, you can just as easily have the illustration drawn directly onto a page in a sketchbook. Many convention goers purchase a sketchbook and slowly fill the book with illustrations from a variety of artists over several years. You can be creative and give your sketchbook a theme, like Star Wars only, for example. Inside the cover is also a great place to hold pages of reference you may have brought for an obscure request.
Leanne strongly recommends that you come to her early in the show, so she can put your request on her list before it fills up. She can only sketch a limited number of sketches per day. Waiting until the last hour of the show to commission a piece will usually get turned down. It's also a good idea to let the artist know when you will be leaving, so Leanne knows how to prioritize the commission and whether it can be done in time.
Some days there really is only enough time for three or four commissions. To help con goers understand, pencils can take from 30 minutes to an hour, while inks and graytones can take up to 2 hours. It all depends on the complexities of the request and the circumstances on the day.
For more info on Leanne, check out the following links.
LeanneHannah.com
Leanne on DeviantArt <- latest work Leanne on Twitter
While we will be at Baltimore Comic Con this weekend, the following weekend we will be up in Oaks, Pennsylvania on September 14th for Retro Con. This will be our first appearance in Pennsylvania, so if you in that area please drop by and support a great little show.