on
August 1, 2014
at
12:00 am
"And it seems to me, that Boba lived his life, like a candle in the wind…" Elton John.
Yarna, or as Leanne and I nicknamed her, "Sixtits" was the cause of a fight between Lando and Boba Fett a few strips back here. It seems she at least wanted to pay her respects to the bounty hunter. Did she love him? Did he love her? I can't answer that. All I can say is such a relationship would undoubtedly be a handful. Lots of handfuls.
Meanwhile, back on Earth. Our poll results are up for "Which movie are you looking forward to the most?"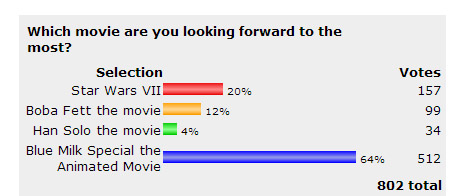 It turns out that 64% of you want a Blue Milk Special movie more than you want Star Wars Episode VII. "Ahem… Disney… LucasFilm…" Thanks, guys. I promise you, if it could be made, it would be even better than the strips. Which, let's be honest, wouldn't be that hard.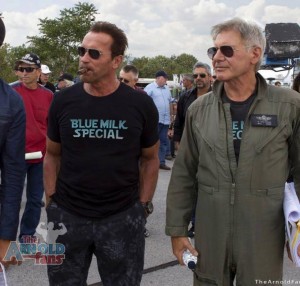 Oh, and check out this giant sinkhole in Siberia. Very Sarlacc.
Thanks to all the military experts who have contacted me regarding my book project. I should be good at this point thanks to those that have replied. I'll make an announcement here on this blog in the near future if there are any other areas I need advice in. If you're a professional astronomer, shoot me an email. I want to talk about Messier 67. Also, readers, please check out our latest poll. Let us know what alien species in Star Wars is your favorite. My apologies for such a specist poll. We're not politically correct, I guess.

​Patreon offers readers a way to support the artists they love with a regular subscription to their work. It's basically like an ongoing Kickstarter campaign, where you can pledge to give us an amount which you specify every time we release a new piece of content (a webcomic strip). Don't worry, you can set a maximum amount in case you're worried about spending too much in a month.
​
Just so you all know, WE ARE NOT SUDDENLY CHARGING YOU FOR BLUE MILK SPECIAL CONTENT, IT IS STILL FREE. We are just asking for help and ​Patreon offers a way for those of you who can afford to support us to do so. At the same time, you'll have a much closer connection to us and receive a lot of exclusive Patreon only Blue Milk Special content and perks to show our appreciation. Want to see Boba Fett beyond the Sarlacc pit? Support us and let us know what you want more or less of. We will listen and we want be able to chat with fans.
​
If we can get some extra help financially, then it makes the project easier and provides an additional incentive for Leanne and myself to create new strips more frequently. That means more content for you guys. All readers will benefit, but ​Patreon supporters will get extra good stuff.