on
April 21, 2014
at
9:02 pm
Those that have a smoker in their lives, or who have quit smoking, should be able to relate to Han Solo in this strip. Guess he must love Leia, huh?
AWESOME CON 2014 THOUGHTS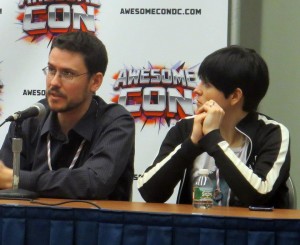 Best show we've done in recent memory = Awesome Con DC on Easter Weekend. It was a challenge with my neck brace and chronic pain, but I had a lot of support. We did a panel with Star Wars legend Timothy Zahn; Leanne nervously met her childhood idol; we sold a copy of my comic Once Upon a Caper to an excited 11 year old girl who might cosplay as my character, Sovena!
It was a show with a lot of highlights to make it one for the memory books. It's not every weekend you meet Ernie Hudson, Timothy Zahn, John "Dak" Morton, Bria LaVorgna from Tosche-Station.net, Jason Pangborn, and many members of the Old Line Garrison, Garrison Tyranus and Garison Carida. The 501st Legion had an extremely successful show and raised a large sum for wounded veterans. All that sweat and hectic racing around and being shot by children with Nerf guns was worth it for such a noble cause – championed by John "Dak" Morton!
We also caught up with many long time readers, as well as local and new readers. A special nod to Noah and Ethan. You guys know who you are! The Forciness is strong with you!
And even more thanks to Ben Penrod, Paul Peyto and the Awesome Con DC team that provided a record breaking show in DC. You guys lived up to the show name.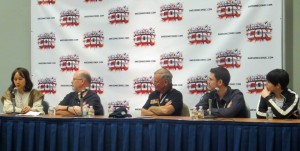 I just want to say a special thank you to everyone, not just those we met at the show, but readers who have supported Leanne and myself through the hard times. Some of you have sent me words of support through email and social media, contributing to my GoFundMe, or sharing with us how much you enjoy what we do. Some of you have hung out with us and been great company and great friends. I don't think I can articulate just how much it means to me to have all this support. Don't be a stranger. We love hearing from you guys!
Next weekend I will be selling off more of my geek collection, but I'm taking a break this week so I don't keep derailing the blogs with eBay links.
And don't forget the Hippo! We are taking pre-orders for Hickory Hippo – our new children's storybook coming out late May.
Special thanks to Leia Askin for many of these photos!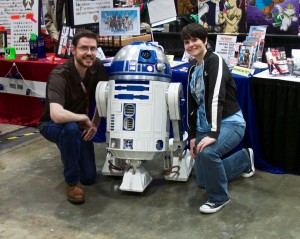 Here are some photos. And yes, the mug IS gigantic. Our fans aren't THAT tiny!