on
April 18, 2014
at
12:00 am
And now, the conclusion… The story of the missing Rancor. Can you feel Malakili the Rancor Keeper's pain? Don't worry, Giran is there to give him a hug. This series of strips were inspired by the the 501st Legion's "Roxy" the Rancor life size prop replica. See part one for the complete story.
Meet Leanne and Rod (that's me) at Awesome Con DC this Easter Weekend. We will be joined by Timothy Zahn, John Fass Morton (Boba Fett and Dak in TESB) on a Star Wars panel on Saturday in Room 206 at 1:30pm. We will have all new Blue Milk Special buttons at our table, a set of four in Wave 1. We should also have the company of Al, the Biggs Darklighter cosplayer – Anchorhead / BMS version! Leanne will be doing personalized commission sketches (sketch cards and 9×12′s). We will have BMS bookmarks, promo cards, artbooks and sketchbooks, my comic Once Upon a Caper, which I can sign for you personally, and most importantly, Hickory Hippo preorders for our new children's storybook coming out next month.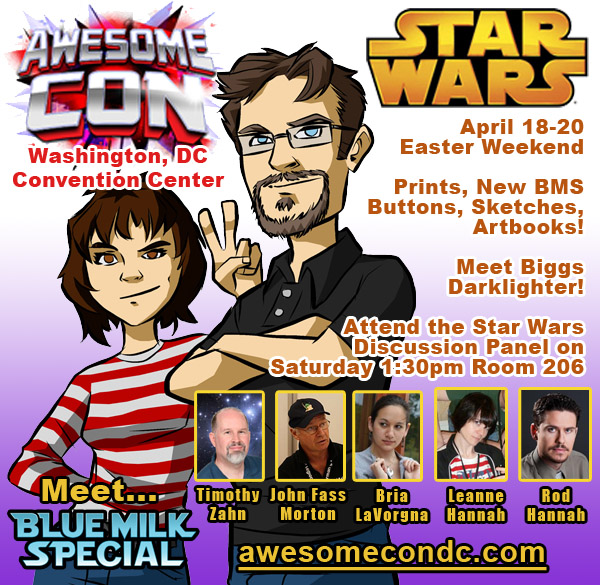 Awesome Con, Washington, DC is on the Easter Weekend of April 18th-20th. We will be in Artist Alley, at Table O9 (the letter "O"), facing the wall. Click here to download a PDF map of our table location. We are at table O-9 in Artist Alley. That's the letter O.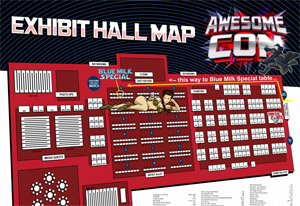 CONVENTION HOURS
Friday: 3pm – 8pm (we will not arrive until 5pm due to work commitments)
Saturday: 10am – 7pm
Sunday: 10am – 5pm
LOCATION
Walter E. Washington
Convention Center
Washington, DC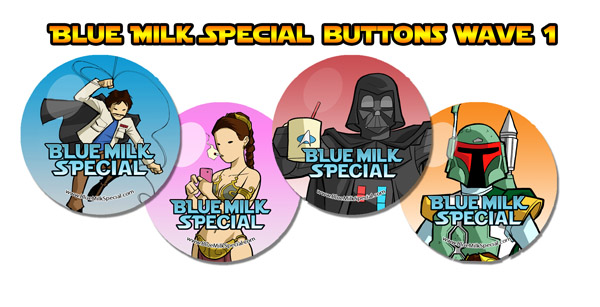 Buttons will be available at Awesome Con this weekend and will be available online starting next week. Support BMS. Wear your buttons with pride!