on
August 19, 2014
at
12:00 am
Quick note. Blue Milk Special has always been, and continues to be FREE on this website. For more, read further below.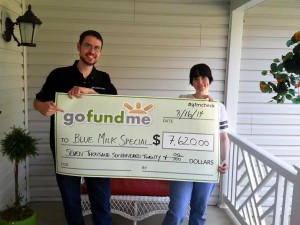 A big thank you to everyone who supported us through our Save Blue Milk Special campaign on GoFundMe. You helped us raise $7,620 dollars, far surpassing our apparently modest goal of $3000. For those new to the site, let me explain a little why this was happening.
I am no longer employed after leaving my day job due to my ongoing health problems. I have slipped discs and cervical fusions along with arthritis radiating down my arms and spine. As a result of having to leave my job, as of August 1st we no longer have health insurance.
We were about to stop Blue Milk Special altogether but your investment in us has validated the continuation of our project. The success of the campaign means that Blue Milk Special will continue for the remainder of Return of the Jedi and we will complete the journey we began in February 2009!
Part of the campaign saw the rewards of full digitaly colored commissioned art from Leanne and myself. We had about 12 takers. The first batch have already been sent off to the printers. People made a variety of interesting character art requests, from the expected TK8008 and Biggs, to the unexpected, like Grand Admiral Thrawn and Admiral Daala. We also offered a special perk where readers who made the big donations not only got a pinup of their likeness in BMS style, but they will appear in upcoming strips. For anyone that is still interested in catching that exclusive offer, I have added some additional packages. We will throw in signed 501st Legion trading cards and a set of BMS buttons.
On the smaller scale side of things, are you interested in giving us $1 dollar a month? Maybe more? You can get all sorts of BMS goodies by subscribing to support us through Patreon. Hi-res pinups from selected panels from each strip, the latest strip one day before everyone else, a free pinup, or a free sketch card! You choose how much to give us per month and you can cancel whenever you want. Subcribe to BMS through Patreon.
Just a little disclaimer for anyone who is confused by our non profit stance. Blue Milk Special isn't a product, nor is it being offered through Patreon. It remains 100% FREE on this website. Patreon is just a way to donate money to an artist. We are giving supporters perks, like a preview of the strip a day early, or a sketch card as thank yous depending on the donation level. I can see where someone might think at first glance that we're selling something, but like GoFundMe, Patreon is a donation site, not a shopping cart. Patreon is for the support of an artist, in this case me. Hence the whole idea of an art patron.