on
May 20, 2013
at
12:00 am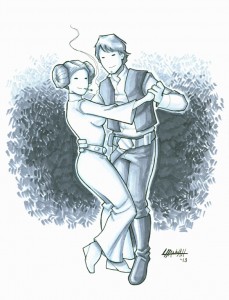 No, the title has no reference to the subject matter of this blog. If it did, I would have titled this one "Doosh Rendar". Anyway, a couple of months ago, Mark contacted me with a very cool request. He wanted to ask his friend, Marina to go to their high school prom with him, but wanted to make the invite special. That's right, Blue Milk special!
As it so happens, she is also a reader of this webcomic! Crazy! Mark asked if he could commission Leanne to sketch Han and Leia dancing (in BMS style) so that he could then use it to spring the question. We both loved the idea and Leanne put together the picture you see on the right, sketching it on 9×12 bristol art board. Is it any surprise that Marina said yes?
"Well Princess, wadya say?"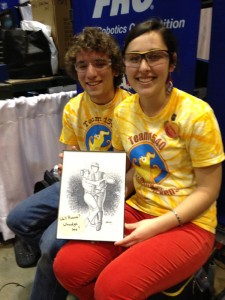 "She loved it, she said yes immediately, and just sat there staring at it for a while. I gave it to her when we were in the team pits for our robotics team at the world championships in St. Louis (that should explain the strange attire and background in the picture that is attached). Thank you both so much for helping me make this happen. She absolutely loved it. We love your comic and will always be checking for new ones."
In fact, they really went for it with the Star Wars prom theme! Check out these photos of their excellent prom costumes. This is such a cute story I'm so glad BMS could be a part of it! Having a hobby or fandom in common with your partner is a great foundation for a long lasting relationship, especially when it's on the geeky side and you're both cool enough with it to not shy away from expressing it together. Oh, the other secret to a long lasting relationship is to be willing to compromise, but lets not get all serious right now.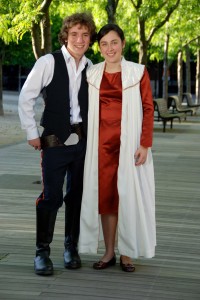 I am so glad she chose Bespin Dress Leia. Ceremonial Leia would have been too much, and Slave Leia… well… too little!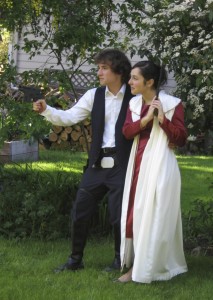 Uh oh! Looks like Darth Vader is about to crash their date!
This is the awesome side of fandom. Glad we could share, in a small way, with you guys! All the best!
~~~Rod and Leanne.