on
July 27, 2015
at
7:39 am
For anyone who remembers Masters of the Universe. It was a cartoon that gave me a lot of comfort and happiness in my early childhood and one that Leanne would end up being involved in through the later comics. And before I get a torrent of questions asking why Guinan is on the Death Star… read BMS. Guinan is on the Death Star, disguised as one of the Emperor's advisers as part of a witness protection program. I highly recommend reading our webcomic which has been going for 6.5 years with over 700 strips. I have just updated our Archive Page with links to the most recent chapters of the comic for those who don't have as many strips to catch up on. Check out the Archive Page here.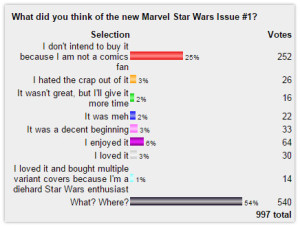 The results for the poll on Marvel Comic's Star Wars #1 are in. We had a total of 997 respondents. A whopping 79% of you either did not care about getting a copy, or had no idea about there being a new comic series! It's pretty clear that although Blue Milk Special is a webcomic, most of our readers do not collect comics. But then, that's pretty much a reflection of the state of the print comics industry anyway. Trust me, we've worked in it.
10% (108) of respondents liked or loved the first issue. 7% (64) of respondents felt ambivalent, disliked or hated it. 3% thought it was a decent beginning, and only 1% loved it so much that they bought multiple copies with the variant covers. What does this tell us? Basically, that the BMS readership who DO read comics, is probably a very small slice of our overall readers, and among those who do, enthusiasm for the comic is split. Having read the first issue myself, I have to say that I ended up cancelling it from my monthly pull list, along with Princess Leia and Darth Vader comics. I read the first few issues from each and while it isn't bad, I would rather wait for a trade paperback, or just use my precious money on something else. Not a great vote of confidence from the public or myself.
Check out the new poll about whether you would support the BMS creators' other projects.
If you want to keep ahead of the webcomic schedule and see the upcoming strips before everyone else, then don't forget you can join my Patreon page. There are a lot of options for supporting my work and you can opt out whenever you like. Worth thinking about if you have time and a big help to me.