on
September 12, 2010
at
12:00 am
Never trust a Kowakian monkey-lizard. Looks like Han, through no skill of his own, has made a clean getaway sans legitimate cargo. Ah well, that's what he gets for trying to kill two birds with one stone, patrolling the Little Alderaan system and trying to get a little smuggling in on the side at the same time. Next week we wrap things up and prepare for the big launch of Splinter of the Mind's Eye. Are you psyched for this? I bet most of you could care less, huh? Well, we're doing SOTME because it deserves to be lampooned… er… celebrated. Besides, don't you want to see Leia wielding a lightsaber?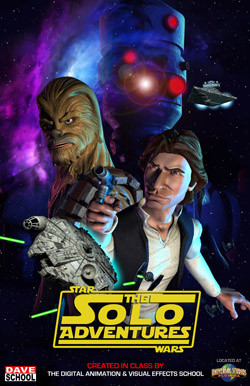 Check out this amazing 3D animated short film starting Han Solo and Chewbacca made by students of Dave School–a digital animation and visual effects school—in Orlando, Florida! We loved it! Great voice acting by John Armstrong who pulls off a believable Harrison Ford likeness. The students captured the spirit of The Original Trilogy perfectly!
BLUE MILK SPECIAL NEEDS YOU!
Our plans to spice up New York Comic Con have been somewhat derailed. The surprise costume I was planning can't happen until next year, and the idea of having blue milk at the booth to drink is too much lugging and carting material around. We're looking to do something big though. Something exciting! Something we haven't quite thought of yet. As we count down the days to NYCC we need to come up with something cool that will make this a memorable and worthy con experience for ourselves and fans.
We're looking to our readers, particularly those who will be attending the NYCC, for ideas and help.
NYCC 2009 had 77,000 attendees. One thing we're concerned about is being lost in the sea of tables in Artist Alley, so we'd love to have some costumed fans stop by now and then and help attract people over, or just hand out a few of our promo cards. One of our objectives at the show is to get rid of all our remaining promo cards and increase awareness of the strip. There are still a lot of Star Wars fans that just have no idea about this webcomic. We have about 1800 promo cards to hand out. We'd like to get rid of all of these at the show. At Celebration V Smoking Jawa, Shadow Stormtrooper and their friends were able to hand out masses of these in the morning before the show had even opened. Those long lines of eager con goers need something to read. As a thank you we will do free sketch cards for those that are serious about helping.
Didn't get a promo card or simply were unable to attend our shows? Email us and we will hook you up. You will have to pay the postage costs, however. We're just artists, after all.
New to Blue Milk Special? Start reading from the beginning!