on
September 9, 2013
at
12:00 am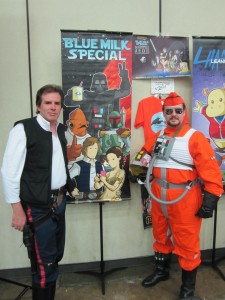 Baltimore Comic Con 2013 is now over, but it was a very good show for us this year with the usual Saturday mad house followed by less of an attendance drop off on Sunday than the last couple of years. We may have been spoiled by our location, which was outside of the main artist alley hall. But I have to wonder if something has changed in people's general attitude at shows compared to the last few years. Perhaps it is something to do with a recovering economy and people being more willing to treat themselves and take an interest. For the first time at a show, people really seemed to get drawn into our BMS group shot pinups of the main cast, as well as the Death Star Class of '77.
I also debuted Once Upon A Caper for the first time at a convention. I nearly sold out of the small supply I took with me, and considering there was no signage I take some encouragement from that. Nearly everyone that I explained the concept to subsequently asked me how much it was and wanted a copy. This was a great reinforcement for me that I'm walking down the right road and that people will want more.
We also had a fan come all the way from Australia to see us at the show! This fact alone was one of greatest highlights of the show. Thanks, Graeme! And thanks for the chocolate biscuits!
One of the other highlights is below…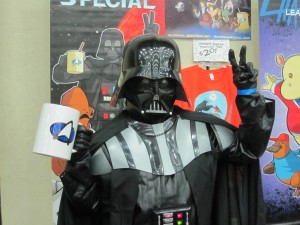 Finally, a live action Vader with "muggy", the BMS Vader mug made by fan and reader, T. Gatto.
I'm short on time, so for now here are some of the moments from the show… Where would we be without Karen's Slave Leia to mimic BMS Leia with phone and ciggie?