on
September 25, 2013
at
12:00 am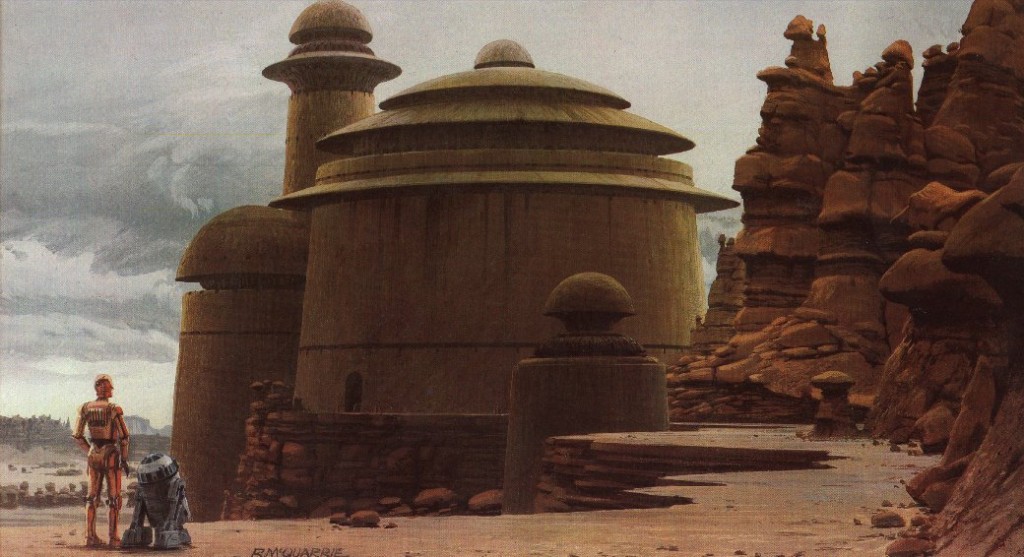 Continuing our parody of Return of the Jedi, we again dip into the deleted scenes to show you where the Falcon and X-Wing were parked while Luke & company prepared their daring rescue. The two droids are once again our introduction to the adventure in a formula that worked so well in the original Star Wars film. A polite but reluctant hero, astride a smart-mouthed overeager hero. Both endearing and almost familial by this point for the audience. It would take C3PO a long time to walk all the way to that "horrendous place" in the matte painting with his costume limiting him to baby steps. I guess those limitations are one of the reasons we seldom see the Rebel Legion members cosplaying as old goldenrod. Still, baby steps is about the maximum speed at a show like San Diego or New York Comic Cons.
If you don't have plans this weekend, and you're in our neck of the woods, then you might want to check out the Star Wars flavor to the Ellicot City Fall Festival.

Our friends in the 501st Legion (Old Line Garrison), Rebel Legion (Terrapin Base) and Jedi Saber Combat will be part of this weekend's celebrations in Maryland. Two fantastic events will be held in tandem in the Ellicott City Historic District on Saturday September 28 – the Ellicott City Fall Fest and the Main Street Music Fest!
"These events will feature 80+ bands on 4 outdoor and 5 indoor stages, children's activities areas, locally brewed craft beer & food. All events are free and family friendly. We've even added free shuttle service to make parking and getting around town easy."
September 28th. 12pm-10pm