on
December 27, 2013
at
12:00 am
Who would have guessed Jabba's taste in music?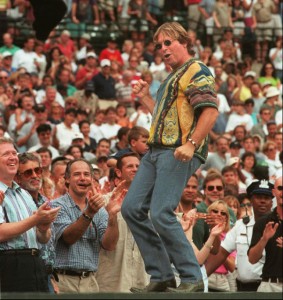 This song is a 7th inning stretch tradition at the ballpark of the Baltimore Orioles. It began when the legend himself danced and sang "Country Boy" atop their dugout during game one of the 1983 World Series at Memorial Stadium. He surprised everyone in 1997 by stopping by while he was in town during a Oriole's game and dancing atop the dugout with the team mascot during the 7th inning stretch. Tragically he died three weeks later in a plane crash.
Since the 80s the song has been part of the 7th inning stretch at Memorial Stadium and later Camden Yards on and off through the 90s and 2000s. I'm not one for Country Music, but this song, particularly due to its sentimental connection to both John Denver and Orioles fans, has that extra layer of meaning behind its upbeat innocence. So, don't think this webcomic was taking a jab at John Denver. Far from it. Jabba just happens to have an eclectic taste in music.
Check out this awesome sketch card that our good friend and artist Danielle Ellison made for us this Christmas!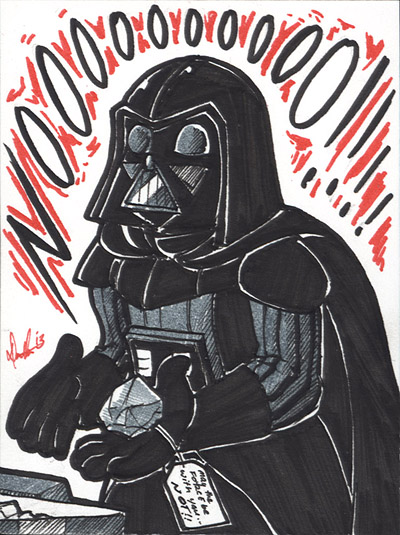 So cool!
You can check out Danielle's stunning work at her sketch blog conveniently named: Danielle Ellison Sketch Blog. Danielle made the awesome statues of BMS Biggs, Vader and Smoking Leia that we use as props at our convention tables. If you are interested in getting a sketch card of your own then check out her DeviantArt gallery.
You can commission a sketch card from Danielle by contacting her here by email or via her DeviantArt site. She does color as well as graytone sketch cards so treat yourself or a friend to something unique.