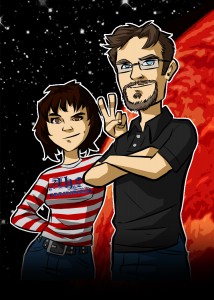 Email: click here or hover over the text to see the e-mail address.
Want to navigate the strips a little easier? Click here, for the BMS Webcomic Archives
Want to know more about Rod? Check out his website.
Want to know more about Leanne? Check out her website.
Click here to support Blue Milk Special by buying a T-shirt!
We can't sell you much more than products with our logo on them, but you can show your support by donating to a cause we believe in. Use the Force to Stand Up To Cancer. See below.


What is blue milk?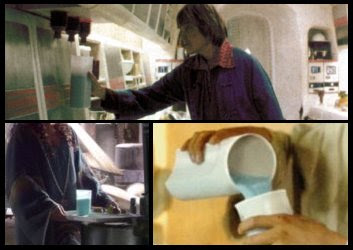 Remember when Luke Skywalker is having dinner with Uncle Owen and Aunt Beru? There's a jug of blue liquid on the table. This blue liquid has since become known as "blue milk". There's also a production still of Aunt Beru holding some, see the photo on the left. Blue milk is one of those obscure pieces of trivia from the original Star Wars movie and seemed the perfect source for the title of our Star Wars parody webcomic.
What is Blue Milk Special?
A webcomic that parodies the Original Trilogy one scene at a time, starting with A New Hope, including The Holiday Special (yes, you read right) and Splinter of the Mind's Eye (the first ever Star Wars novel, published before The Empire Strikes Back). We are currently about two thirds of the way through The Empire Strikes Back and intend to begin Return of the Jedi sometime next year. We have recently announced that we will be squeezing in a parody of Shadows of the Empire, the expanded universe linking material that takes place before ROTJ. The comic is written and illustrated by Rod and Leanne Hannah.
Blue Milk Special has been on the TopWebComics.com list since 2009. This began a slow climb from the 100s up to the Top 30 throughout 2010-2012. In September 2012, Blue Milk Special climbed to the Top 10 for the first time.
In October 2012, BMS continued to flirt with the top 10, briefly holding #9. Votes can be made daily and include the reward of viewing the upcoming strip.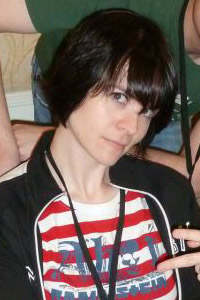 Leanne Hannah:
Leanne Hannah is an illustrator who has worked for Marvel Comics, Hasbro, Scholastic, and Mattel, amongst other companies. Her most recent work includes Casper and the Spectrals for Ardden Entertainment and Whatever Happened to Baron Von Shock? for Rob Zombie and Image Comics.
In her spare time she and her husband Rod collaborate on a Star Wars web comic called Blue Milk Special where they lovingly poke fun at the original Trilogy of films.
Leanne currently lives in Maryland, loves studying history, is fiercely devoted to the Baltimore Ravens and Orioles, takes pride in her left-handedness and has more Beatles knowledge in her head than is probably healthy.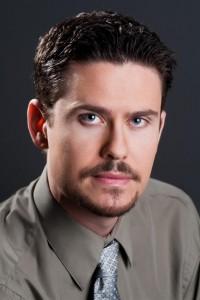 Rod William Hannah:
Rod William Hannah writes for the two-time Harvey Award winning Mice Templar (published by Image Comics) and the retro animation magazine Cereal:Geek. He has written and self-published the All-Ages comic book Once Upon A Caper and popular ongoing webcomic series Blue Milk Special (now translated into five languages!). Rod has edited and lettered indie comics, including Kevin Conn's Lava-Roid and Jim McCarter's Pulverized. He is currently dividing time between various writing projects including his first full length children's novel.
Born in England, Rod moved to New Zealand when he was 5 1/2 years old. Love brought him to the East Coast of America where he now works with his comic book illustrator wife, a girl from Southern Maryland named Leanne Hannah.
Both Rod and Leanne are Friends of the Legion, an honor bestowed by the 501st Legion, a global Star Wars cosplay organization for their work on Blue Milk Special and charitable service.
Who writes and illustrates Blue Milk Special?
Rod Hannah and Leanne Hannah (husband and wife). We collaborate on the production of the webcomic. We are both heavily involved in the art, though the composition of the strips, the FX and the lettering are handled by myself (Rod) while it is Leanne's cartoony style upon which the characters are based. Leanne is the primary artist, especially at conventions. She does the majority of the character designs. However, her professional comics career and side projects with myself often leave the larger chunk of the strip production to me. While I am the driving force behind this fan project, Leanne is often the one that helps keep the strips funny, so we both get involved in writing as well.
Who else helps Blue Milk Special?
G. Padilla – 3D Star Wars vehicle poses
T. Gatto – Paper milk carton designs, supplier of some strip backgrounds
J. Porter – Blackhole Stormtrooper cosplayer, promoter and forum moderator
P. Dejawavu – Jawa cosplayer, promoter
Gennady – Russian translator
M. Stipp – German translator
V. Torres – Spanish translator
C. Gutiérrez – French translator
We welcome all the support and help we can get and would love to see the BMS family grow. Contact us if you have ideas how you could contribute.
Blue Milk Special in other languages?
Without people like Gennady, Michael & the folks at Jedipedia.net, Vicent and Carlos, we would be an entirely monolingual fan project. If you speak Russian, Spanish, German or French, please check out those BMS sites and lend them your support and a few kind words.
When did Blue Milk Special start?
February 2009. I scripted 300 strips before we launched.
How often do you update?
We try to have at least one strip per week. We used to have a regular schedule and would update two or three times per week but, like any webcomic, as time goes by it gets harder to maintain a regular schedule.
Why?
We do not try to profit off, what is for us, a fan project. Webcomics with original creator-owned material might have an additional incentive to put other things aside in their personal lives to treat their project not only as a labor of love, but as a business. Legally, we are not able to pursue that avenue with our Star Wars fandom and we respect LucasFilm's rights.
How is Blue Milk Special produced?
Before the start of our Empire Strikes Back parody all inks were done on paper, scanned and colored digitally. Leanne has now shifted to completely digital work using Manga Studio. My own work has always been digital, but no where on Leanne's level. Although the first few strips were basically colored by Leanne, I took over all coloring early on in our parody of A New Hope. Coloring is performed in Photoshop.
We use a "paper doll" method, which means we frequently reuse pre-prepared art with appropriate tweaks. This is a matter of practicality and the only reason that the strip exists as there was no way Leanne would have been able to commit as a full time artist drawing every panel from scratch. This is also the reason that I contribute to the art chores just as frequently, though I'm no where near as polished or talented.
Will you publish a book collecting the Blue Milk Special strips?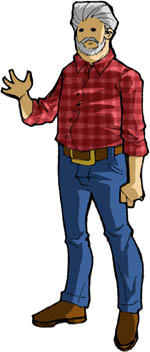 No. We can only do so if we get a license from LucasFilm giving us their blessing and giving them royalties and a degree of control and censorship. We publish Blue Milk Special for free as a pop culture parody under the Fair Use act. We are non-profit. We could technically argue in a court of law that as a parody we have the right to profit, but we're not interested in pissing off LucasFilm.
Yeah yeah! But seriously, will you print a book collecting the strips?
No. It's George Lucas' property. We respect that and only make Blue Milk Special in the capacity of fans who his Original Trilogy inspired. BMS is free to read so if you like it, share it and have a laugh with your friends. As aspiring creators of our own original comics we hope you and your friends might give our other projects a shot in the future. If you simply MUST rep BMS in some fashion then consider buying a T-shirt with our logo or a coffee mug or something… or a print. That is one way to help support us and help keep the project going.
Really?
Yes. Although we sell prints of the Blue Milk Special pinup and we do convention sketches, these (along with the site advertising) do not even cover the costs of the website maintenance, design and convention expenses. For example, at a show like Baltimore, it costs us $300 for a hotel, $200 for a table, and at least $100-$150 for food. Our travel costs don't even factor into Baltimore because it's only an hour's drive from where we live, but a place like New York would add either air or train travel costs into the bill. While Baltimore was about $650 for us, New York was around a $1000. Trust us, we do not make that sort of money back. We also have to print the prints that we sell and purchase art supplies. So yes, when we say we are non-profit, we really mean it. If our goal was financial then we would always be in the negative. :-/ We are fans of Star Wars first and foremost and doing this for ourselves with you guys as encouragement.

Click here to support Blue Milk Special by buying a T-shirt!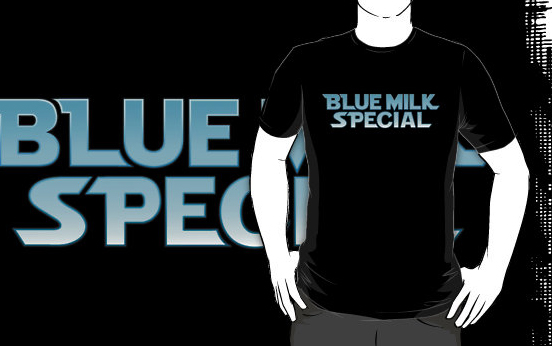 You are making fun of Star Wars!
We are Star Wars fans and we are HAVING fun with Star Wars, not MAKING fun. While we don't eat, sleep and breathe Star Wars, we do love the films and they affected our lives in a very positive way. When I sit and watch Star Wars, I tend to play with the lines and insert new dialogue to have a laugh with the material I have come to know like the back of my hand. Because so many of us know the films inside out and back to front, that is what gave me the idea to share my particular twist on the films, hopefully for the enjoyment of others. We know we aren't for everybody, but that's okay with us. We aren't trying to be anything other than what we are.
Leia and Jawas should not smoke!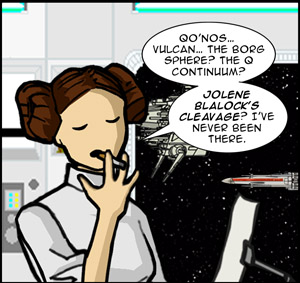 Neither myself or Leanne have EVER smoked in our entire lives and we're not big fans of the activity either. Sure, both Leia and the Jawa would likely have healthier lungs and be better role models if they didn't smoke. That's the problem with perception that this project faces. Blue Milk Special is definitely not an educational comic or a diversion for parents to give their young children. Despite the cartoony style of our art, this is a parody and often that means looking at the innocence of Star Wars through the eyes of an adult. Blue Milk Special has never been aimed at anyone younger than a teen even though some of our strips are fairly harmless.
The majority of our gags are only really suitable for readers who have an awareness of sexual innuendo and have a tolerance for the odd surprise gore or violence now and then. Although we sometimes allow mild swearing, we limit our use of coarse language and for the most part avoid toilet humor altogether as it is not really our thing.
Carrie Fisher is awesome and the basis for our alternate interpretation of Princess Leia. The Smoking Jawa is modeled after the classic 1970s used-car salesman stereotype and thus wouldn't feel right without a cigarette. Look at the book, Splinter of the Mind's Eye, which is was never inappropriate at the time, but when Han and Leia were turned into an item in The Empire Strikes Back, the Alan Dean Foster novel suddenly took on a twisted tone. Blue Milk Special is as much a commentary at times as it is a parody.
Will you parody the Prequel Trilogy?
No. At least, not in the same way as we have with the Original Trilogy. We won't cover the Prequels extensively and IF we make it to the end of the Return of the Jedi and we decide to play with the Prequels as well, then it will likely be no more than 10 strips at most. Yes, as few as that.
Do you hate George Lucas?
No. We don't hate George Lucas. We might not be sycho-fans-t, but we appreciate what he gave the world. He is at his best when he is marshaling a more democratic array of talented collaborators rather than when his creativity goes unchallenged. He was the key player in the making of the originals which led to one of the largest fandoms in the world, even if most agree his greatest works were several decades ago. George is a fitting subject to be caricatured, not in a bitter way, but with admiration and a touch of sympathy. He fits nicely into our webcomic's universe as a dichtomized character, Young Lucas and Old Lucas: not as a villain, but as an almost godlike force that shows up now and again to add commentary. How would Old Lucas, with his much more authoritarian control of the later Prequels, have influenced the originals?
Where are you based?
Maryland… near Washington, DC.
Will you come to my local show?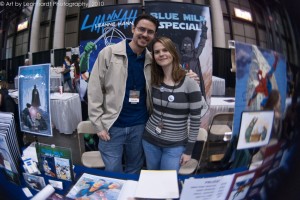 We do like to set up at comic conventions, but it has to be practical for us due to travel, hotel and convention expenses. Shows within a few hours of Washington, DC are practical, but a day trip just to reach the city is expensive. We will always set up at Baltimore Comic Con and may also continue to attend Virginia Comic Cons throughout the year. Beyond this, we have to be selective about where we go. We are working on new, original creator-owned projects and may set up at Anime conventions and book fairs in the future.
If you have a show that you would like us to consider, please shoot us an email and tell us about it.
How did you guys meet?
We met back in either March or May of 2001 via a shared hobby (A G.I. Joe mailing list, of all things!). It was difficult, being such a looooooong distance relationship, but eventually I immigrated to the USA to marry Leanne (a native of Southern Maryland). I was born in the UK and moved with my family to New Zealand when I was roughly 6 years old. I have now been in the USA since 2004 with 8 happy years of marriage and many more to look forward to.
BMS vs Family Guy vs Robot Chicken?
Since we started getting noticed we have often been compared to the Family Guy and Robot Chicken Star Wars parodies. It seems unecessary to have to address this at all, particularly as in many ways we preceded or were running parallel to the Star Wars parodies aired on Fox and Cartoon Network. However, there was an occasion where we were attacked in our comment thread by fans of Family Guy for what one guy felt was a stolen gag. It was a simple case of a similar sense of humor, but it left a bitter feeling for me. BMS is a fan project and any costs come directly out of Leanne's and my own day job paycheck. We invest an enormous amount of time into something that can never be of financial reward to us. We are all working from the same source material and so occasionally we might cross into similar territory but there is never any conscious plagiarism, just as I am sure Family Guy and Robot Chicken work hard not to copy one another. Blue Milk Special doesn't always have an easy task in trying to find new twists on such well parodied material. Ultimately, we are a webcomic. There really is no reason to compare us to Network animated shows although I will take it as a compliment anyway.
Who came up with the idea of the Federation Coffee Mug?
That was Leanne's genius at work.

Who came up with the BMS Biggs Darklighter?
Myself… inspired both by his obscurity and tragedy, with a touch of Terry Jones "The Bishop" from Monty Python.
Why are there less comments for earlier strips?
We actually collected a massive number of comments from readers over the years, but back in early 2010 the site broke during an upgrade (which initially looked like a site hack, but I'm a drama queen I guess?). I lost the database that stores all the user info and user comments so I had to cut my losses and just start over. Therefore, many of the New Hope strips are light on comments to this day. Feel free to go back through the strips from the beginning and help flesh 'em back out.
Read more about Blue Milk Special…
Blue Milk Special is non-profit and made by fans for fans.  Star Wars characters are used under fair-use laws as pop culture parody. But what is Blue Milk Special? Don't know yet? Click here.
The strip follows the events of the Original Star Wars Trilogy in chronological order… meaning you won't see much of later characters until we reach that point in the story (although some might make guest appearances in our own original linking material). That being said, we are basically a gag strip, so we're pretty liberal with our take on events. You'll also find unique story elements and alternative characterization which evolves as the strip progresses –Biggs Darklighter being one of our key examples.
We are aided on occasion by the talented Geoffrey Padilla, who provides additional 3D spaceship models which are cel-shaded to have simpler cartoony feel (see 3D modeling credits below).
Below is a list of the various 3D models and credit to the talents behind their creation. Thank you to those that have made their hard work available and allowed us the raw material to rework into the BMS style!
Millennium Falcon (YT-1300)
1. George Mezori (ZOO) (Conversion)
2. Al Meerow (Mesh)
3. Don Showalter (Maps/Optimization)
Millennium Falcon (YT-1300) version 2
1. Iven Connery (Original Model)
2. Sebastian Hirsch (Mojo) (Textures)
Y-Wing
1. Al Meerow (Original Model)
2. Don Showalter (LW conversion)
3. Tom Grays (TomG) (LW 5.6 conversions)
X-wing (snub fighter)
1. Dr. Harry Chang (Model)
2. Don Showalter (LW Model)
3. Matt Walton (Pilot)
4. Jose Gonzalez Pareja (Textures)
5. Matt Allen (Extra Detail)
X-wing (Snub Fighter) 4
1. Mister X (Original Model)
Tie Fighter
Authors:
1. Al Meerow (Original Model)
TIE Advanced x1 Prototype (Vader's Tie)
Authors:
1. Staffan Norling (Squapper_Stuffe)(Original Model)
2. James Bassett (Some Details)
Slave 1
1. A Wiro (Original Model)
2. Preben Hermann (Rough Rider)(Lightwave Conversion)
3. Hartmut Redlefs (C4D r8 Conversion)
Hosted on: Scifi3d.com