4 Years and counting
on
February 4, 2013
at
12:00 am
Blue Milk Special's Biggs Darklighter (or "Super Biggs") is part Errol Flynn and part Terry Jones' The Bishop. For those unfamiliar with the Monty Python sketch, see below.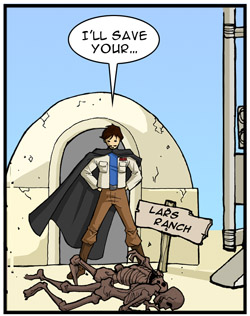 4 years ago, something special happened. Leanne agreed to team up with me on a Star Wars parody webcomic. With only a few interruptions, Blue Milk Special has been going every week since February 2009. We started with three strips per week and dropped back to two after our initial burst of madness and enthusiasm eventually had to face the realities of life. But you don't come here for reality and neither do we. BMS has been an escape for both of us and a nice collaborative project to keep us working together, even when Leanne has occasional professional comic committments pop up.
We're not quite finished with Empire, so I'll withhold discussion of that milestone for a couple more weeks. However, with Shadows of the Empire and Return of the Jedi both just around the corner, it will be interesting to see how far we get by our fifth anniversary. One thing is for sure, the more feedback and support we get, the easier it is to channel our energy into more silly strips. So, keep commenting and letting us know when a comic made you laugh.
Episode 52 of Masters Cast!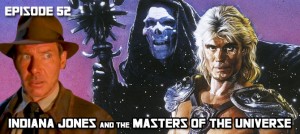 Leanne joined the regular cast of long running Master of the Universe podcast, Masters Cast with episode 47, last August and has been part of the team since. Leanne was the editor for the original Masters of the Universe comic reboot in 2003 and illustrated the Stratos origin story. The latest episode (episode 52) wanders off-topic with Star Wars, Indiana Jones, Gremlins, Ruthless People and more! Head over to Masters Cast to hear the episode and join Leanne and crew.
In her first guest appearance, back in episode 47, Leanne gave her thoughts on the new Master of the Universe comics published by DC, as well as the Mattel Masters of the Universe Classics toy collectors' line. You can listen to her first appearance on the show, here.