Artoo Detoo's Opinion
on
June 8, 2010
at
12:00 am
Totally delighted with Geoffrey Padilla's recreation of the floating Falcon from the Holiday Special cartoon. Geoffrey, as you will recall, joined the Blue Milk Special team as our 3D modeler when we put out a call for help with our spacecraft. You'll still see those screen grabs in our older strips, usually with a vectorized 'cut out' effect courtesy of photoshop, but it was hard to be satisfied with them and the contrast between Leanne's cartoon style. Geoff reworked an existing 3D Millennium Falcon model into a cell-shaded (animated look) and modeled the flotation buoys himself. The effect is both sharp and perfect! Look forward to seeing more of Geoff's work in both past and future strips.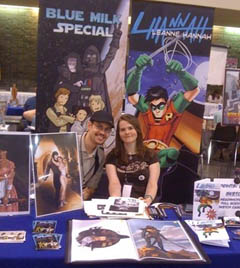 Last week we announced that Blue Milk Special would have a table at Baltimore Comic Con (August 28-29) and New York Comic Con (Oct 8-10). If you will be attending and would be willing to not only meet us but to help us pass out our stash of exclusive Blue Milk Special promotional postcards to passers-by, then we would be most grateful. We would ideally like to find some Star Wars costumed fans to help drum up some attention and direct attendees to our, most likely, hard to find table. If you or any fans that you know might be interested, please get in touch with us.
Are you new to BMS? If so, then you can start reading this webcomic from the beginning by clicking here.
Watch the Star Wars Holiday Special animated short below, courtesy of YouTube.