Compensated
on
October 19, 2012
at
12:00 am

Episode 49 of the popular podcast Masters Cast is now up. The podcast has been covering the world of Masters of the Universe fandom for years and starting with episode 48, Leanne (Blue Milk Special artist-in-chief) joined the regular cast. Leanne was the editor on the 2002 Masters of the Universe reboot through MVCreations / Image / Crossgen comics. At around 30 minutes in, a discussion about Skeletor and Hordak takes a Star Wars twist thanks to Leanne at about 31:30. Jon Kallis and Leanne also discuss their time at Power Con in September (36 minutes in). And I agree with Jon about the Emperor. 😉 You have to care about Masters of the Universe to truly enjoy Masters Cast, of course.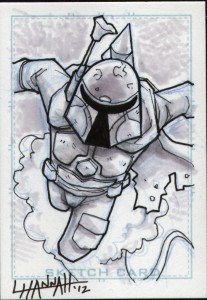 I mentioned recently that Leanne's twitter account: @stratosmacca will be debuting new Star Wars art and sketches over the next few weeks, exclusive to Twitter. Here's a taste of what is to come. If you are a Twitter person, you might like to follow Leanne to get the art updates and communicate with her directly. You can also follow @BlueMilkSpecial on Twitter. That's me.
Also, Leanne Hannah the Art Book Vol. 1 will debut on Monday. As I've said before, we will not sell BMS as a collection out of respect to Lucasfilm's intellectual property rights. That decision means that BMS doesn't have the perk of offering a product for sale. In order to get a little sustenance I've been busy putting Leanne's art books together and hope that readers will want to buy a small piece of BMS, encapsulated amongst a collection of Leanne's best color pinup art. We will throw in a free BMS glossy promo card, previously only available at select comic/sci-fi conventions. For a little extra you will be able to get a Star Wars sketch card of the character of your choice, hand drawn and signed by Leanne. This is a way you can support BMS and our lean fan lifestyle.
May your weekend be filled with Forciness!