Burn it with Fire!!!
on
May 9, 2016
at
9:00 am
The Imperial colonists on Endor have hit a snag. Now it is up to the Rebel commando team to sort out the mess. Those Xeno-mogwhai-morphs spread like tribbles!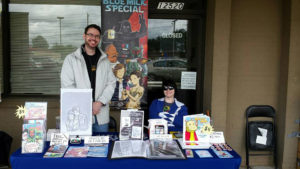 Leanne and I spent Saturday at the excellent House of Pop Culture in Waldorf Maryland, doing our part to make the Free Comic Book Day event more enjoyable for local comic book and sci-fi readers. Leanne was swamped with Harry Potter sketch requests, as well as a very specific request by a 9 year old for a Brainiac 5, 1990s comic book version. Someone is raising their kid right. One clonetrooper and a number of super hero requests rounded out the day of free sketches for kids.