Lending a hand
on
February 1, 2013
at
12:00 am
Psssst! Any video game employees out there who read BMS? I have an insider question about MMO game design. Shoot me an email if you think you can help.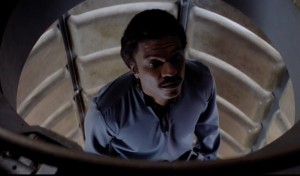 Thanks for coming back! Maybe, perhaps undoubtedly, this joke or something similar has been done before. But here it is, BMS style!
First off, a very big thank you to everyone who found the time and enthusiasm to comment on last Monday's blog. It was a record breaker, with almost 100 comments in only a few days… all of them wonderful, supportive and motivational! Proof of the positive effect of so much enthusiasm for BMS is the time I have spent getting ahead with the next 4 strips. Leanne has also been hard at work providing a few new pieces of art to complete our final lap to the Empire Strikes Back finish line. We will definitely finish before the end of February.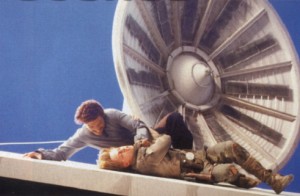 Shadows of the Empire will take a little work. I have not yet scripted anything for the parody and it will, of course, require some new art and new characters. And as soon as that brief parody wraps up, we will have to do it all over again with Return of the Jedi requiring even more original art and costume changes. I'm looking forward to both, but don't hold back your enthusiasm. Be sure to keep commenting and letting us know the time and work is worth it. It has helped fuel both Leanne and myself enormously this week.
BMS' first appearance in print?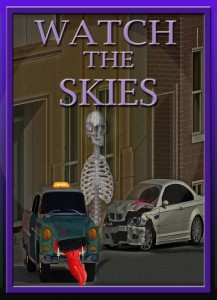 I want to thank the sci-fi / fantasy fanzine "Watch the Skies" for deciding Blue Milk Special was worth a mention. They not only wrote a very flattering piece about our little webcomic, but also gave us their back cover spot with our "Wrong Platform" strip. Thanks, Eric! I encourage everyone interested in sci-fi and fantasy (that's all of you) to check out this fanzine and their website. Perhaps you could even contribute?
Speaking of contributing… I welcome ideas for Blue Milk Special, whether it's for stand alone strips, or characterization ideas, especially as we approach Shadows of the Empire. Though I have a very thorough adaptation of Return of the Jedi already scripted, there are so many characters and things that can be done that I am all ears. Also, Firefly fans… if you want to see more Firefly in BMS then talk to me. All ideas should be emailed to me directly, as I do not want potential spoilers in the comments thread. Thanks!
I am having some issues with the podcast editing which has been delaying episode 5. Whether it can be salvaged or not depends largely on whether I can justify the huge amount of editing time required to claw my way out of the abyss of technical hitches. I'm also having issues with Skype, my headphones/mic, and the old laptop's low processing speed. This does not motivate me to re-record it. In short, I'm teetering on the edge of abandoning future podcasts altogether. Unless people REALLY love what we are doing with the podcasts, I may just have to treat them as "specials" rather than publish them with any regularity.