Jabba's other dancer
on
May 9, 2014
at
1:00 am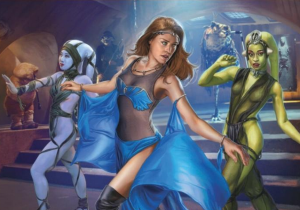 A quick reminder to our irregular and newer readers, Jabba the Hutt was played by Declan Mulholland in the original 1977 Star Wars movie. We have spun our own alternate reality where Declan is the REAL Jabba. See his first appearance in BMS here. /?p=156
Although the Expanded Universe is no longer part of the main Star Wars canon, we thought we should give a nod to Mara Jade. The Emperor's favorite assassin was sent to Jabba's palace to kill Luke Skywalker. Rather than take on the identity of a bounty hunter, like Leia acting as Boussh, Mara Jade for some reason opts to infiltrate Jabba's court by becoming one of his dancers / slave girls. Don't blame me. I didn't write this stuff. We just parody it.
We're not done with Mara Jade yet. In the meantime though, we have some urgent news! Our last comic convention in the USA is tomorrow!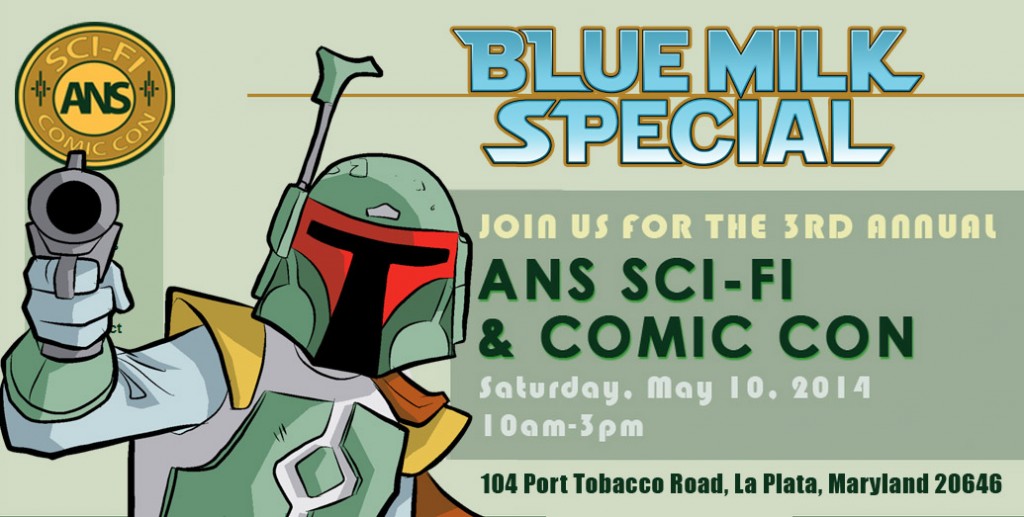 On Saturday May 10th (that's this weekend), we will be at ANS Sci-Fi & Comic Con in La Plata, Maryland. The Rebel Legion will be formally presenting us with their friendship. So why not join us for this special moment in Blue Milk Special's history?
We'll be doing sketches, selling prints, artbooks, sketchbooks, new buttons, taking photos, telling stories and singing songs. I sung the Ewok "nub nub" song at Awesome Con, so nothing is beneath me. So, if you live in the region (Virginia, Maryland or DC), then consider making a run down to Southern Maryland for some webcomic and Star Wars madness. It's a small show, but all proceeds benefit the Arch Bishop Neal School. That's a great cause and all thanks to the show organizer, the huge Star Wars fan, Tom Boone.
This is our last scheduled show on USA soil this year. So if you can make it as far as Southern Maryland, please drop by and say hello.
And don't forget, I am selling a couple of Cybermen from Doctor Who. I am trying to raise as much money as possible for my current health battle. We're on a single income for now and I may be forced to sell my Star Wars action figure collection soon. So anyway you feel you can help out is dearly appreciated.