Jedi-Con preparations
on
September 26, 2014
at
12:48 pm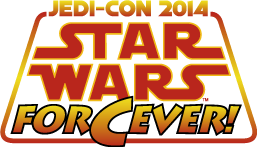 Next week we will be touching down in Germany for the Official German Star Wars Fan Club's Jedi-Con event. The Three day show runs from Oct 3 to 5, at Düsseldorf Maritim Hotel. The highlights for us are guests Garrick Hagon (Biggs Darklighter himself!), Anthony Daniels and Kenny Baker.
Most importantly however, we get to unite at long last with our third member of the BMS team, Michael Stipp, the genius behind the German translation of our webcomic, and the only translation which has caught up to our latest strip. Michael has done more than anyone to bring Blue Milk Special to German readers through the Jedipedia.net website and community.
Michael is actually the guy responsible for today strip. Obi-Wan Kenobi is the unofficial mascot of Jedipedia.net and Nomi is Michael's cat. As BMS strips go, this one's gag is something most of us can relate to whether we are Star Wars geeks or not. So, credit to Michael for this one.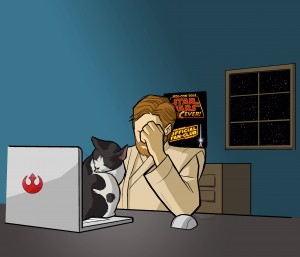 In preparation for Jedi-Con, we have been doing a phenomenal amount of new artwork. Approximately 13 new BMS illustrations for the Jedi-Con program booklet, a new poster, two new banners, and four Jedi-Con BMS strips that will be published during the show. This has kept us busy all month along with the pinups for the SAVE BMS CAMPAIGN supporters, and of course, the Blue Milk Special Return of the Jedi strips for this website.
We will then be taking a mini-vacation immediately after the show to see a few sights in Germany before heading back Stateside. However, we plan to keep BMS going during that time without a break by getting ahead of our publishing schedule before we leave. So BMS should not be affected. However, the bonus of our trip will be a huge wealth of new BMS art for all readers to enjoy.
If you live in Germany, or near Dusseldorf and can make it to Jedi-Con next weekend then we would love to see you there. Details on booth location next week.