March of the Banthas
on
May 12, 2014
at
11:28 pm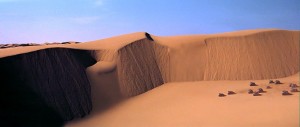 This scene doesn't exist in the original theatrical release of Return of the Jedi. The Batha herd was added post 1997 for one of the special editions. Seeing the Banthas on the desert just makes me laugh. Somehow it's a little more believable in the scenes in the 1977 Star Wars movie, set in the rocky Jundland Wastes, but its still puzzling how these animals aren't extinct yet on Tatooine. Poor bastards! Then there's the second shot on the right where they are apparently marching blinding toward a sandy cliff! They clearly have no clue where they are going! This will be the only strip this week as we give ourselves a small break. Please join us next Monday for the Sarlacc Pit!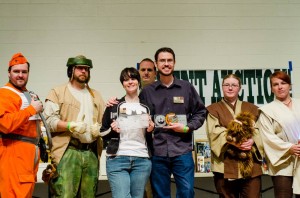 As mentioned, on Saturday May 10th, Leanne and I attended our final comic convention of the year in the United States. The ANS Sci-Fi & Comic Con was the most fun we've had in a very long time. We were inducted into the Rebel Legion as honorary friends with a little ceremony led by Terrapin Base CO Charles Wright and presented with some beautiful plaques and membership badges. Thank you to everyone that turned out for the event to share in the fun and help raise money for the Arch Bishop Neal School.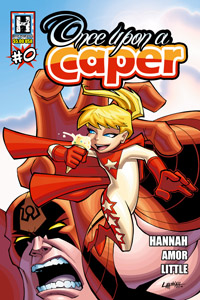 Oh, and a personal highlight of the day was selling copies of my comic, Once Upon a Caper to several eleven year old girls. The comic stars an eleven year old girl with some burdensome super powers, so having girls of that age want to pick up and read the comic was a hugely rewarding moment for me.
I want to make a special thank you to Tom Boone, the show organizer for his hard work over the last three years putting together such a great show. It's small, but bustling with energy and most importantly, kids! Tom even designed the Angry Birds Trench Run game that was set up at the Rebel Legion's table. His love of Star Wars and community spirit are just another great inspiration for us to try and do more with Blue Milk Special's reach.
Pictured above, Shep, Eric, Virgil, Hank and Leia Askin.