Oola's Musical Tastes
on
May 1, 2017
at
12:00 am
Little known fact, Oola actress, Femi Taylor performed in the broadway musical, Cats. So, just sharing some vitally useful knowledge with any of you ever in the position to need that information to save your life… or get her autograph. 🙂
Click here to view the beginning of the story of Biggs Darklighter and Oola Oop.
And now it is time for our Biggs update. Biggs, our pet cat, that is!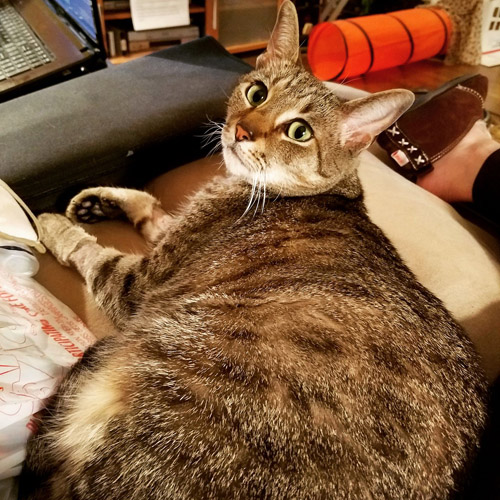 I wanted to wait until we made it through the weekend before posting an update, since the last few times I've been posting updates about things seemingly getting better, something unexpected has happened and we have found ourselves back at the clinic. However, I am now very confident that Biggs is just about back to his normal self and he no longer smells of urine!
At last!
Aside from the shaved front of his neck, and shaved ankles on his forelegs, (I prefer to call the front legs arms, because I just do), he is about as normal as can be. He's back to pestering us around 9 pm for his wet food. He's back to playing again (for the first time last night), and he's sleeping beside us again too.
No more signs of trouble going to the bathroom. And after spending a LOT of money on different brands and flavors of urinary health wet food, we have found one he actually likes. He's also started eating the urinary care dry food, although it took him nearly a week!
We gave him the last of his pain medications last night. He's now on the remaining antibiotics every day, along with a couple other syringe delivered medicines. He doesn't fight with us when we give him the medicine, so that's also great. Based on how he reacts to vets, you would never guess he could be so tame at home.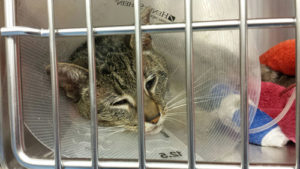 We've reached a phenomenal $2,385 of our $2,500 goal! I don't want to sound like a broken record, but the compassion and generosity of everyone who has been in a position to contribute is the ray of light throughout this whole ordeal. Dr. Fox (the aptly named vet) who was one of the primary vets to treat Biggs told us that Biggs was having the toughest few days of his life. As a three year old we really felt for him, and there were two occasions where I really felt scared that his time might be up. But thanks to you guys, our efforts to save him and make sure he got all the care that was needed, was made possible through this GoFundMe.
While we're still a ways off from being able to cover the costs, and the after care costs, we've been able to weather the storm rather than be ruined by it completely. Our need is still urgent and we are month to month with my medical costs as well, but thanks to the incredible generosity of our friends, family, and readers, the good ship Hannah has yet to sink!
As for the BMS postcards we promised to those BMS readers who donated $20 and up, please email me your address at rod.hannah@gmail.com so we can get those mailed out to you at the start of next week. Thanks to all of you!
Please consider supporting BMS, whether it's through buying one of these auctions, or donating via Patreon or GoFundMe. If you want to donate to us directly through Paypal, then here is the link.
If you subscribe to us through Patreon, you get to see the next set of strips early and get exclusive content. All money helps keep BMS going from the cost of the website to helping with my expensive monthly medical bills and health insurance. We can not publish BMS for sale as it is only a fan project, so we rely on fan support for the project's continuation.