She loves him
on
October 29, 2012
at
12:00 am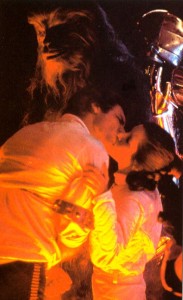 This is a big moment in the movie, and it is the fifth time Leia kisses Han. If I'm counting correctly, right ladies? There was that peck on the cheek in the cockpit. Though this is the fifth kiss, it could have been the sixth… if only a certain scene was not cut short.
But first, I want to give a quick update on the status of the Artbook etc orders. All Monday 22nd October purchases of Leanne's Artbook Vol.1, Sketchbook 2012 and sketchcards commissions were shipped on Saturday 27th. Leanne is now finishing up the sketchcard requests from Tuesday 23rd onward. The sketches take a little more time and we are mailing them out in batches. The rest of last week's orders should be mailed either Wednesday or Thursday this week, depending on the impact of the mega-super-ultra-storm in our area. Thank you for your patience.
Don't forget to vote for us (see the right side bar).
And now… the Han and Leia romance! You can click the images to see full size screen grabs.
Kiss #1 – the first kiss…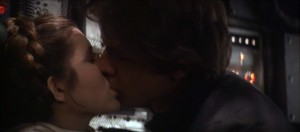 But that kiss could have been longer and more passionate… like this unabridged make-out session! (give it a few seconds to load… it's animated. If it has stopped looping just refresh this page)
Kiss #2 – the spontaneous "you're adorable" kiss…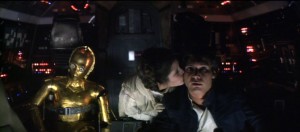 Kiss #3 – nothing says how comfortable two lovers have become with each other, physically, better than a gentle forehead kiss…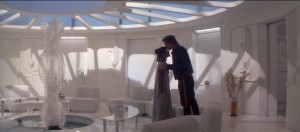 But THIS could have been Kiss #3b…

Had it not been among several Han / Leia exchanges that were cut from the film. Some of those cuts were included in the new BluRay releases of the films as extra features, though this deleted Bespin kiss is sadly not among them. Here's the best example of the scene I could find. Refresh the page if the image is not animating after 1 minute.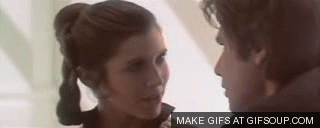 Kiss #4 – the tender-loving-care kiss…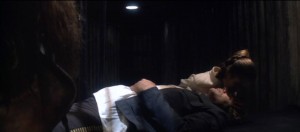 Kiss #5 – the quick, but passionate farewell…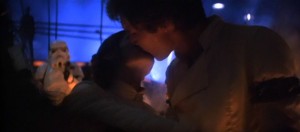 I'm just glad that they never included this AWFUL, alternate South Passage scene… that made it into the novelization. Han obviously forgets that Leia's allegiance to the Rebellion is reinforced by the loss of Alderaan and her family, making the bad dialogue even worse. For a great blog discussing that scene, and others, read what Fantasy Matters had to say about it.
Time for a Little Blue Milk nostalgia. Here's how BMS covered the steamier moments of their romance…
It began with "Check this out!" and was immediately followed with "Han Interrupted".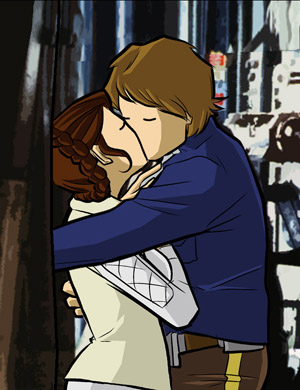 On Bespin, a hard to get Leia tried "Stalling" and FAILED. Whoa, Leia! Calm down, girl!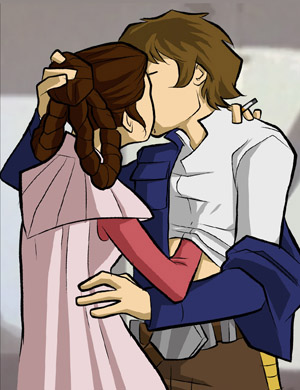 It continued with "When the Wookiee's Away…" Those bed sheet will be burnin'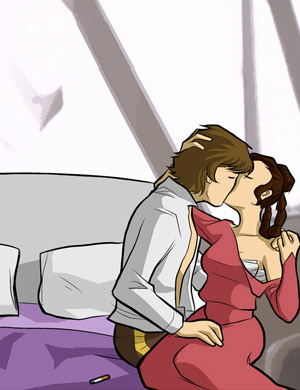 And here we are today with "She Loves Him"… seemingly their last, tragic kiss… easily the most moving.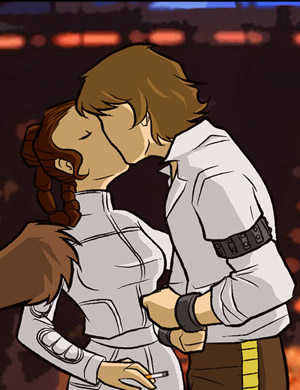 But just as things start rolling, their love life goes on hiatus. This Friday will be the last strip you're going to see Han in his normal form for quite a while here in BMS. However, that does not mean Han won't still be a part of proceedings. 😉